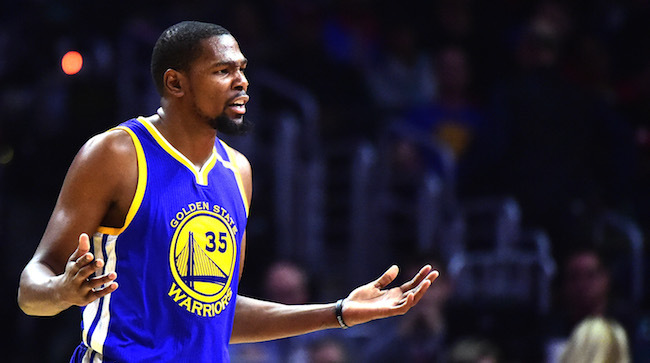 Kevin Durant's decision to join the Warriors has paid off handsomely, two NBA titles and two NBA Finals MVPs.
While much can change and there is still a whole season to play, it is hard to imagine a similar scenario not playing out in year three.
Durant will enter free agency once again next summer and the rumors swirling around the league are that Durant could choose to leave.
Why would he ever leave one of the most dominant teams in NBA history? A new challenge.
From Marcus Thompson of The Athletic:
"I've talked to people in the franchise about this. Not for this piece but just through various conversations. Some I've sought out, some have sought out me. All of them have the same kind of undercurrent: we hope he stays, but wouldn't be surprised if he leaves.

The same franchise that was willing to dump everything to get him is now unofficially bracing for his departure. There is a vibe. There is a sense of "this is possible so let's be mentally ready." Of course, that makes sense. Who wants to get their hopes up to be crushed? But the hunches and guesses that Durant might leave seem stronger now than they've ever been."
At this point the biggest rumor seems to be the Knicks, especially if they were to hire Durant's agent, Rich Kleiman, as their general manager.
I just think Durant on the Knicks would be great for the NBA and the competitive balance in the NBA.
Plus, I can already see league executives salivating at the thought of a LeBron vs Durant, LA vs New York, Knicks-Lakers NBA Finals showdown.