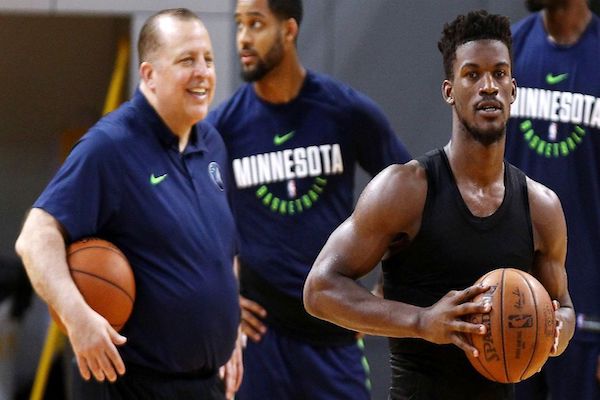 A new, old wrinkle has been added to the Jimmy Butler saga in Minnesota: Inside one week before the regular season officially tips off, he still wants to be traded.
Shocking, right? It's not like that's all we've heard for the past few weeks ad nauseam. Apparently, though, Butler recently felt it was necessary to return to Minnesota and reiterate his trade request to coach-president Tom Thibodeau. Here are the deets, as reported by The Athletic's Shams Charania and Jon Krawczynski:
Jimmy? Butler has? returned? to Minnesota and, in a meeting with? president? and? coach? Tom? Thibodeau, reiterated his?? desire to traded, league sources told The Athletic.

Butler has not practiced with the team since training camp opened on Sept. 25, just over a week after he first met with Thibodeau to personally deliver his trade request. The Wolves have had conversations with a number of teams, most notably the the Miami Heat, but have yet to close a deal.

Butler worked out in Minneapolis on Monday and talked with Thibodeau, making clear that nothing has changed in the last three weeks, sources said. It remains unclear when, or if, he will join the team in practice as they prepare for the season opener at San Antonio on Oct. 17.
The latest makes it seem as if this may have been the first attempt by Butler to start a fire under Thibs following the initial trade request. We know they've previously met, but there's a good chance the Wolves have been dealing with their All-Star's representatives since then.
Either way, for Butler to request he be moved yet again in a face-to-face setting speaks to his unhappiness. He probably thought this would all be over by now. He's entering free agency next summer, and the whole world knows he wants out. Most, including him, likely expected the Wolves to settle for a half-decent offer over the past couple of weeks.
And yet, they haven't. Whether it's denial, stubbornness or methodical planning, Thibs and general manager Scott Layden have been slow-playing this entire process. That might help them drum up their return on Butler's services. Or it could backfire by inviting owner Glen Taylor to eventually step in and make the final call on a lackluster pool of overtures. Whatever happens, it'll be fascinating to see how this battle of wit and wills plays out—and who's left looking foolish because of it.