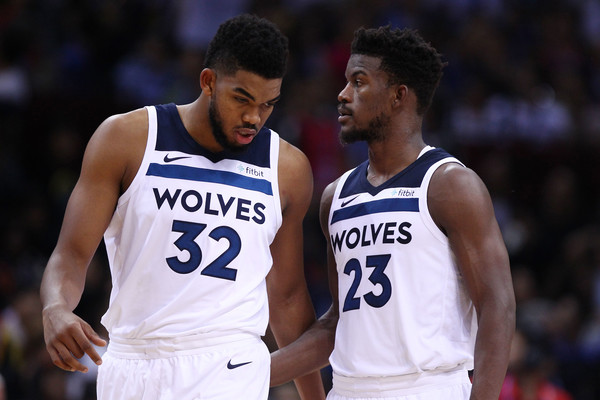 Perhaps Jimmy Butler's desire to leave the Minnesota Timberwolves has more to do with Karl-Anthony Towns—and, by extension, Andrew Wiggins—than we were led to believe. At the very least, it seems like Towns may have a problem with the way Butler goes about his business.
Here's Darren Wolfson of 1500 ESPN speaking on the Mackey & Judd (via ProBasketballTalk's Dan Feldman):
I'm led to believe that a big reason why he hasn't signed it is that he – through his agent, Leon Rose – went to the Wolves and said, "Hey, I can't coexist with Jimmy. Do something about it." So, Figure out the Jimmy situation. On top of that – whether it's right or wrong, this is the way he feels – that it's been Jimmy and Thibs ganging up on him.
This tracks with what we've heard about Butler. He started to grate on his younger teammates while with the Chicago Bulls—specifically during the 2016-17 season, when he and Dwyane Wade were feeding off one another. If Butler arrived in Minnesota with the same attitude, it makes sense that it would rub Towns (and Wiggins), the thought-to-be cornerstones of the franchise, in the wrong way.
Now that Butler has officially requested a trade, Towns' unhappiness should prove temporary. But his problems with coach-president Tom Thibodeau are more wholesale. It's unclear whether owner Glen Taylor is unhappy with him in his dual role or if he's prepared to pay him to go away. Trading Butler may placate Towns to some degree, but it doesn't appear to be a potential cure-all.
Granted, the Timberwolves have little to worry about when it comes to Towns' future. He isn't turning down the max money they've offered him. It would be surprising to even see him wait until 2019 restricted free agency before signing a new deal. Still, if Butler already has both feet out the door, it's paramount the franchise mend and preserve the relationship they have with Towns—a task, it seems, that will remain difficult so long as Thibs is in charge.