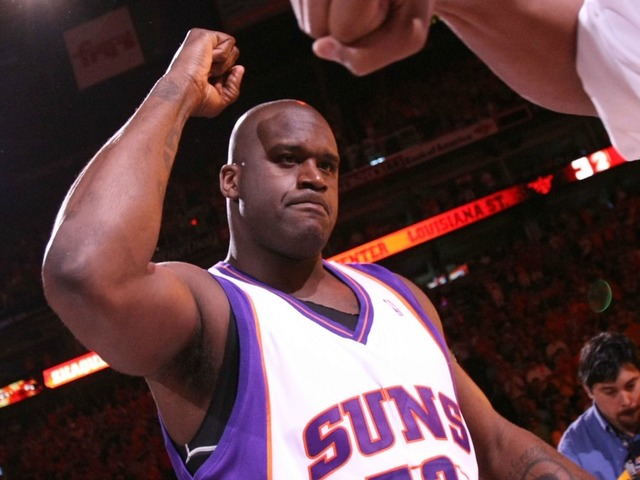 Shaquille O'Neal seems to be almost as legendary with his stories off the court as his top 10 all-time caliber career on the court.
One of those stories which you may have heard of is the time that Shaq choked out one of his teammates right before a game.
Here is what fellow NBA legend Grant Hill told Bill Reiter of CBS Sports about Shaq while he was a teammate with him on the Phoenix Suns:
"Shaquille O'Neal choked out Gordan Giricek before a game. He put him in a sleeper hold and the guy was knocked out, passed out on the locker room floor before the game. Definitely one of Shaq's memorable — or not-so-memorable — moments from the year and a half that I played with him with the Phoenix Suns."

"You know, Giricek was a good player from Croatia, a good shooter, but he never passed the ball inside. He would always kind of look Shaq off and shoot it. And they kind of would go back and forth and exchange words and Giricek would kind of talk trash to Shaq. And so one day Shaq was like, 'You know what, I'mma let this guy know who I am.'

"It was right before a big game in Phoenix against Dallas. We have our team meeting. The meeting ends, I go and use the restroom. I come out and Giricek's laid out on the floor. And I'm like, 'Come on Shaq! We're trying to win!' But it was typical Shaq. Thankfully, Giricek, nothing serious happened. Thankfully he's living to be able to talk about it. But Shaq was always entertaining and always knocking people out, I suppose."
This is pretty insane and essentially aggravated assault. It really feels like only Shaq gets the benefit of everybody laughing this off because he is Shaq, that being said it seems like Giricek somewhat had it coming I suppose. It's not a good idea to refuse to feed the big fella and then trash talk him about it, that is a dangerous move to say the least.
For every story that reaches the light of day of what goes on behind the scenes of an NBA locker room, there are 10 that stay secret.
Who knows what other stories will never be told from Shaq's one of a kind NBA career.