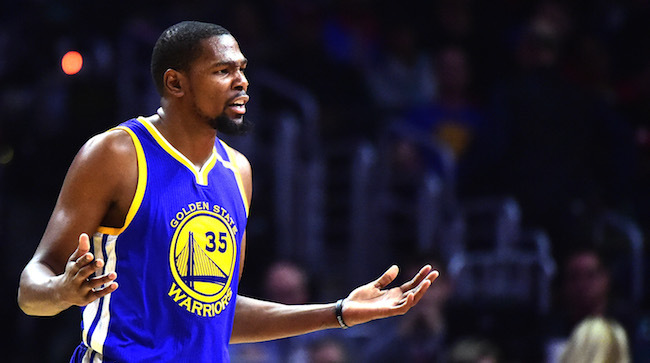 Kevin Durant is the 2nd best basketball player in the world and it is a relatively close 2nd, I don't care what anybody says.
ESPN's "NBARank" is ridiculous for ranking him as tied for 4th with Giannis Antekounmpo.
With that being said, he has received plenty of acknowledgement for his play in his two seasons for the Warriors, two NBA Finals MVP awards, an All-NBA 1st nomination and an All-NBA 2nd Team nomination in a season which he missed a lot of games and was 9th in Defensive Player of the Year voting last season.
As always the ever ornery version of Durant these days is basically showing his sensitivity and mistreatment complex.
Here is what he told 95.7 The Game:
"You know they're not gonna give me anything," Durant said Monday on 95.7 The Game. "Even if it's on the fence, I have to be clear-cut better than everybody for me to even get a look.

"It's just pure hate for me, obviously, and no appreciation for my real skill for the game. But I get it. I understand where we coming from. I understand what we have here in this building that scares everybody.

"But for me, I was just proud of the growth that I had in that area. I just wanted to be able to be relied on to guard anybody — whether it was helping guys at the rim, switching out onto point guards — so I just tried to do everything. I feel like I grew so much on the defensive side of the ball last year.

"I feel like my whole game is unlocked now, when I was able to see the things I can do on that side of the basketball. … I'm never gonna get a look when it comes to that, especially playing here for the Warriors."
While I can at least agree that it is much harder for him to win another league MVP award while playing alongside multiple superstars, that is what happens when you play on the most stacked team in league history.
Durant chose the best situation to win in free agency in 2016 and that has paid a lot of dividends, but there are trade-offs to joining a team that had already won an NBA title and was coming off of a 73-win season and this is one of them.