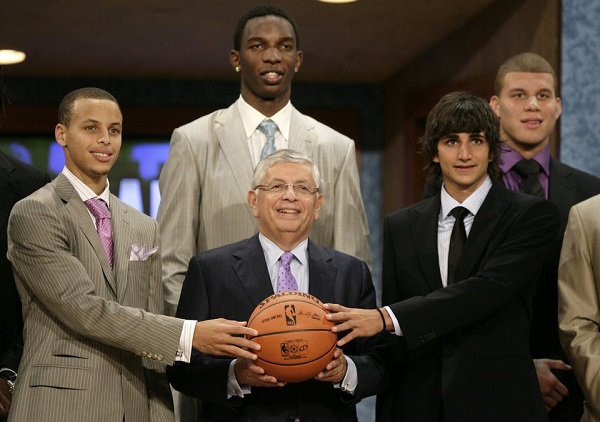 One of the more infamous recent draft mishaps was the Minnesota Timberwolves taking point guards back to back at No. 5 and No. 6 in the 2011 NBA Draft, Ricky Rubio and Johnny Flynn, and passing on 2x NBA MVP and 3x NBA Champion Steph Curry.
Many experts marveled at Rubio's ability to pass the basketball and run an offense and some scouts preferred Flynn over Curry because he was stronger and more athletic.
Even at the time most roasted the Wolves for taking point guards back to back No. 1 and not taking Curry with one of those picks.
While it may be nothing more than an NBA wise tale that has spread to add even more lore to an infamous draft decision, Steph Curry was on the Bill Simmons podcast and he revealed a reason he heard as to why Minnesota didn't draft him…
"My guy David Kahn. I don't know where he's at right now," Curry said on The Bill Simmons Podcast. "I don't know if that ever came out — there's a story. Everybody knows how much I love golf — play it in my spare time and what not.

"I think the word on the street was that he didn't draft me because in Minnesota it's cold and I wouldn't be able to play as much golf so I would have been miserable."

A shocked Simmons asked Curry: "Is that true?"

"I hope it's true because that's hilarious (laughter)," Curry said. "That's hilarious."
Sorry still scratching my head over here, in reality the T'Wolves management was likely concerned that Curry was a very slight, scoring point guard that may not have been built for the rigors of the NBA, but poor and bizarre decisions by former GM David Kahn have become NBA lore so it is at least conceivable that this has some truth to it.
Either way, nobody will ever let the Wolves let that decision down, imagine how the NBA landscape could be different.