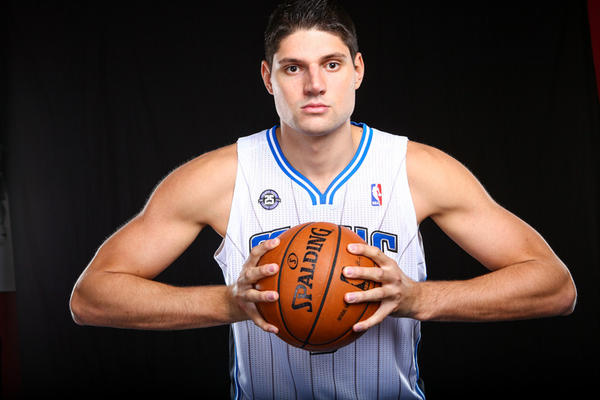 One way or another, Nikola Vucevic and the Orlando Magic are nearing the end of their time together.
This parting of the ways, so to speak, could happen organically. Vucevic is entering the last year of deal and will almost certainly leave as a free agent if he remains in Orlando for the entire season. The Magic just drafted another big man, in Mo Bamba, and they also have Timofey Mozgov on the books, along with the need to carve out some small-ball 5 minutes for Aaron Gordon.
Because Bamba and, to a lesser extent, Gordon are so important to the future, though, the team is expected to try busting up this logjam sooner rather than later. According to The Athletic's Michael Scotto, we should count on Vucevic's name hitting the chopping block at some point:
Vucevic, 27, is expected to be available on the trade market since he is taking away playing time from Bamba and doesn't fit president Jeff Weltman and general manager John Hammond's desire for length and versatility. Gordon has proven to be most effective as a four. Isaac remains an unknown after appearing in only 27 games as a rookie. Can Isaac shoot the ball and handle it well enough to be a three? It's seemingly the only way Bamba, Gordon and Isaac could all share the floor.
Vucevic's name has hit the rumor mill before only for nothing to come of it. That could happen again. The Magic are set up to enjoy some cap space next summer, and dealing him could entail taking on long-term money for which they have no desire.
Equally important, the market for big men isn't particularly robust. There isn't really any one team that needs Vucevic. The Los Angeles Lakers could certainly use him, but they're not going to give up anyone of real value for him. Ditto for the Los Angeles Clippers and San Antonio Spurs. If the Magic do ultimately wind up moving Vucevic, expect it to be later in the season, when teams might be trying to account for injuries or they're more willing to sell super low, perhaps accepting only a comparable expiring deal in return.