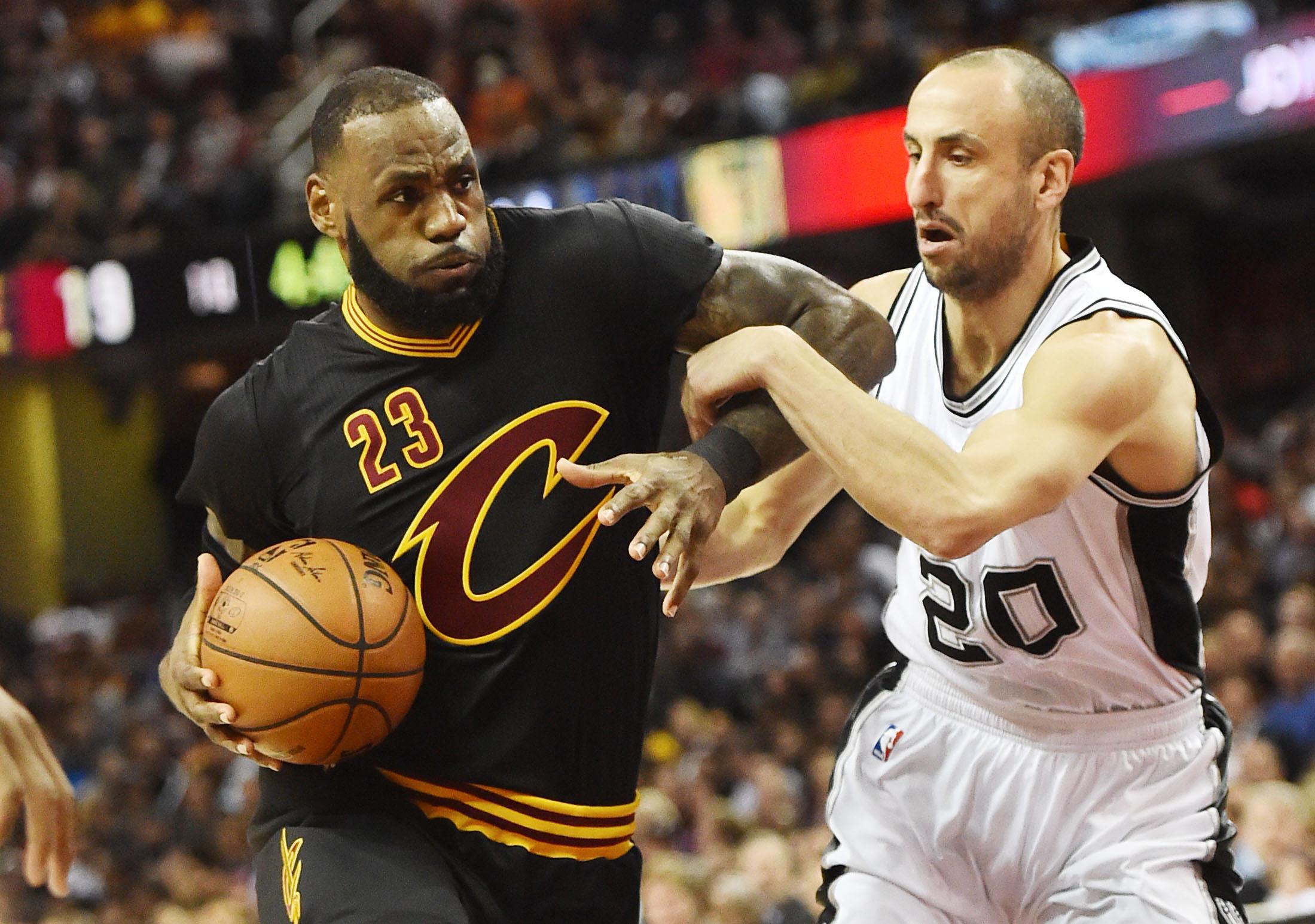 After 16 years in the NBA, Manu Ginobili is calling it quits.
Please take a moment or a few jillion moments to bask in your subsequent sadness. I know I will. This is a big loss for the NBA. Ginobili, 41, remained exciting to watch even as he ebbed out of his heyday.
Anywho, Ginobili and the San Antonio Spurs announced his decision on Twitter:
Today, with a wide range of feelings, I'm announcing my retirement from basketball. IMMENSE GRATITUDE to everyone (family, friends, teammates, coaches, staff, fans) involved in my life in the last 23 years. It's been a fabulous journey. Way beyond my wildest dreams. pic.twitter.com/3MLCUtmd6K

— Manu Ginobili (@manuginobili) August 27, 2018
#GraciasManu por todo! pic.twitter.com/8252qgCmvi

— San Antonio Spurs (@spurs) August 27, 2018
That pain in your chest is a heavy case of the sadz. Indulge it. Manu is worth it.
As Monday progressed, both past and present NBA stars came out in droves to express their appreciation for Ginobili and all he did for the league.
LeBron James delivered a two-part tweet:
@manuginobili Congratulations on one helluva career brother! It was a pleasure to match up against you over the years. Regular season, Finals, National Team, didn't matter was always a treat! The game of basketball has you to thank for the most swag move in..

— LeBron James (@KingJames) August 28, 2018
basketball right now which is the "Euro Step"!!!! God bless you, thanks for the playing the game the right way and for the competition!!! ?? ???

— LeBron James (@KingJames) August 28, 2018
Stephen Curry posted a picture of the two legendary guards hugging it up:
Congrats on an amazing career @manuginobili. You embody how basketball is meant to be played. With Passion, joy, and obviously a Champion through and through. Inspiration many sir. pic.twitter.com/Z86WgYFVMk

— Stephen Curry (@StephenCurry30) August 27, 2018
Kobe Bryant did the same:
.@manuginobili You are true champion my friend and one of the best I have ever matched up with. Enjoy life after the game hermano. You deserve that and more. pic.twitter.com/g5qtYlsNMA

— Kobe Bryant (@kobebryant) August 28, 2018
Chris Paul showed Manu some love:
Thank you for being a fierce competitor on the court @manuginobili, impacted the game for generations to come! ?? #Ginoooooooooobili

— Chris Paul (@CP3) August 28, 2018
As did Dwyane Wade:
One of the best to ever do it. Thank you @manuginobili for pushing the game forward and for showing players all around the world what i true champion looks like. #HOF

— DWade (@DwyaneWade) August 27, 2018
If you want to feel old, here's Gordon Hayward noting that Manu is one of the primary reasons he wears a No. 20 jersey:
One of the reasons I wear number 20! Congrats @manuginobili on a great career! pic.twitter.com/rA2wewYbKV

— Gordon Hayward (@gordonhayward) August 28, 2018
Donovan Mitchell also weighed in:
Thank you @manuginobili ????? pic.twitter.com/hy6MRG2Hpk

— Donovan Mitchell (@spidadmitchell) August 27, 2018
Rudy Gobert made an appearance as well:
It's a real honor to have competed against you, @manuginobili ! The definition of a winner ! #GraciasManu pic.twitter.com/dkIlk0y13c

— Rudy Gobert (@rudygobert27) August 27, 2018
Manu's teammate, LaMarcus Aldridge, put together a nice little thread:
I competed against you for 9 years. I sat through countless pregame meetings discussing how not to let you go to your left hand because when you do, you're impossible to stop! Then, I became your teammate and got to witness first hand how you bring way more value to a team than pic.twitter.com/JJYbvXNToE

— LaMarcus Aldridge (@aldridge_12) August 27, 2018
just scoring. You're a ultimate competitor and a "team first" kind of guy. You lift the culture in an organization just by simply being around. You were even successful in getting me to participate in more team activities than I have in my entire career. It was an honor competing

— LaMarcus Aldridge (@aldridge_12) August 27, 2018
against you, but even better competing with you on my side. Thanks Manu!

— LaMarcus Aldridge (@aldridge_12) August 27, 2018
CJ McCollum paid extra homage to Manu's eurostep:
Hell of a career @manuginobili . One of the best to ever do it. Pick and roll genius. Euro-step king. Hated trying to force you right in the pnr knowing you would still snake back to the left hand. I've borrowed a lot of your moves and set-ups. The game will miss you !

— CJ McCollum (@CJMcCollum) August 27, 2018
That's enough feelz for one post. There were more. Many more. Manu had that much of an impact on the game.
On the off chance you can handle more niceties without entering the fetal position, there's this 50-seconds-long montage to watch:
Respect from all around the league for @manuginobili. #GraciasManu pic.twitter.com/4chXC4hRIt

— NBA TV (@NBATV) August 27, 2018
This outpouring of support is impressive, and it's an ironclad reminder that yes, Ginobili is going into the Basketball Hall of Fame. Between his NBA resume and international accolades, he's an airtight shoo-in.
Anyone pretending otherwise is fooling themselves. The threshold for entry is already on the lower side, and Ginobili's championship and stylistic legacy put him on the faster track. Basketball-Reference gives him a 20 percent Hall of Fame probability, but really, his chances are much better—formality level, even.
Happy trails, Manu. The game and its fans are going to miss ya.