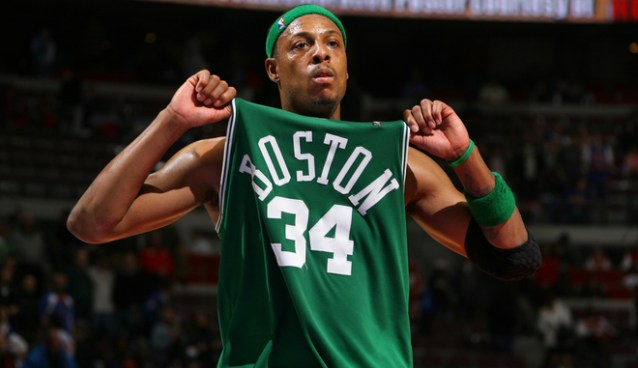 Paul Pierce is one of the greatest small forwards in NBA history. and the second leading scorer all-time for the most prestigious franchise in the NBA.
He will be a first ballot hall of famer and won an NBA title and NBA Finals MVP in his career.
Most people forget about the traumatic event he suffered early in his NBA career even though it had a huge affect on Pierce's life, especially in the years after it happened. Pierce was stabbed 11 times in a Boston night club on September 25, 2000.
He opened up about how that impacted his psyche and mental health on an incredible piece by Jackie MacMullen of ESPN about mental health issues that NBA players deal with.
Long after he was released from the hospital, Pierce remained nervous, jittery, anxious. He couldn't sleep. The Celtics urged him to seek counseling, but he waved them off. "I thought, 'I can do this myself,'" Pierce recalls. "I didn't want anybody else in my business."

But as the weeks dragged on, moving around in public spaces became almost unbearable for Pierce. The trauma of the event had stripped him of his confidence. His anxiety spiked while dining at Morton's restaurant in Boston just a few months after the stabbing, when the manager approached him with a house phone and said a friend was insistent on speaking with Pierce. He picked up the receiver, and a menacing voice sneered, "I'm going to kill you."

"So now I'm really paranoid," Pierce says. "I don't want to go anywhere. The police sat in the front of my house for months. I was a mess.

"I think that's the reason I got back on the court so fast. Me sitting at home thinking about [the stabbing] didn't work. I went to every practice, sat on the sideline for hours, because that's where I felt safe. I didn't want those practices to end because then I had to go back out there in this world that really scared me."

"I should have opened up earlier than I did," Pierce admits. "It was eating me alive. Once I finally started talking to a family member, it helped me.

"I realized, 'I should have done this sooner.' I would tell everyone to get the help they need. My depression was bad — really bad. I never want to feel that way again."
This is pretty deep stuff that it seems like most around the organization and close to Pierce didn't even realize as he tried to deal with his P.T.S.D. and resulting depression from this event on his own for years.
The entire piece is pretty illuminating as it reminds us who don't get to live and revere the NBA lifestyle that it often comes with a ton of pressure, stress, anxiety, depression and loneliness for a lot of reasons and isn't always as glamorous or charmed as many assume, even without dealing with something as damaging as Pierce has had to deal with.