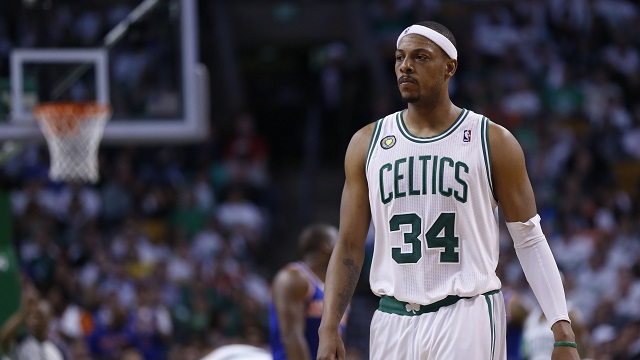 Paul Pierce spent 15 seasons as a member of the Boston Celtics after being taken No. 10 in the 1998 NBA Draft.
He won an NBA title, a NBA Finals MVP and made 10 all-star appearances.
He would play for three more teams after being traded from Boston: Brooklyn, Washington and the Los Angeles Clippers, but he always considered himself a Celtic.
He has always preached loyalty between players and organizations and criticized Kevin Durant for leaving OKC in 2016 and told the Boston Sports Journal on Thursday that he doesn't think that franchise to player loyalty and vice versa exists much anymore.
"There is no loyalty to a franchise anymore. You are not going to see a player stay with one franchise for 10-15 years. That's the generation we live in."
While he is right, much like Kobe Bryant and his perceived loyalty to the Lakers, some of it is facetious and frankly hypocritical as Pierce requested to be traded multiple times during his Celtics tenure.
Courtesy of Pro Basketball Talk's Dan Feldman:
Pierce asked the Mavericks to trade for him in 2005 so he could play with Dirk Nowitzkion a team one star away from contending. In 2007, he reportedly told the Celtics to trade him if they didn't add a second star. Boston, of course, traded for Ray Allen and then convinced Kevin Garnett to waive his no-trade clause. In 2013, Pierce helped engineer a trade to the Nets. He and Garnett joined Deron Williams, Joe Johnson and Brook Lopezin Brooklyn and Pierce said, "We're all about winning a championship and Brooklyn, we feel, gives us the best opportunity." After stints with the Nets and Wizards, Pierce signed with the Clippers, which he described as a super team.
It is a classic move for a player of a past generation to judge the actions of players of the current generation without acknowledging some of the actions of their own.
Ultimately there is less loyalty on both sides these days, but with careers being so short and players trying to maximize their earnings and ability to win while they can and teams treating players as pieces in order to build a contender, not to mention the creation of free agency more than 40 years after the league began,the system isn't really conducive to long-term loyalty in most instances. Professional sports are a mercenary business where the stakes are high and the players on and off the court are rewarded handsomely for succeeding in it.