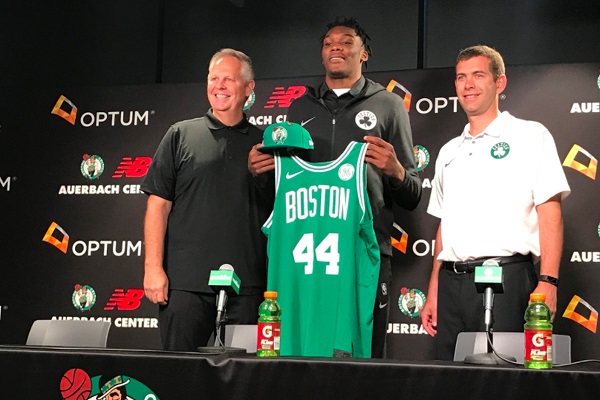 Coming into his sophomore season at Texas A&M, Robert Williams was seen as a potential top 10 pick, possibly even a top five pick in the 2018 NBA Draft.
His size, strength, explosiveness and quickness made him the ideal rim running center on offense and a rim protector on defense.
An underwhelming start to his season and the emergence of what could be an elite draft class caused Williams to fall out of the top 10 range and more into the late lottery in most mock drafts.
When draft day actually came, Williams was selected 27th by the Boston Celtics in the 1st round of the 2018 NBA Draft.
Why did he fall so far on draft night even though his skill set is actually what numerous teams such as the Clippers, Nuggets, Wizards and Lakers to name a few needed?
Apparently this is why…
Sherrod Blakely of NBC Sports Boston:
"After oversleeping which delayed his introductory conference call on June 22, Williams was a no-show at practice on Sunday after missing his flight.

'Everyone's disappointed," said Celtics summer league coach Jay Larranaga following a 2 ½ hour practice. "You want to get off to a good start the first day. We'll handle that internally and move forward."
Williams apparently came into the draft process with some negative labels attached to him, lazy, low-motor, immature, and he has done nothing but to validate and strengthen those views of him in his first few days as a Celtic.
You can't be bothered to wake up for your introductory conference call or make a flight for your first practice? Seriously?
It is far too early to write Williams off, but if he doesn't last long in the NBA he will have no one to blame but himself.