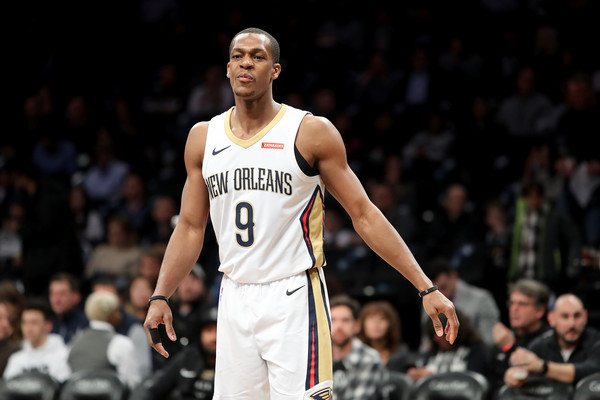 Rajon Rondo is now a member of the Los Angeles Lakers—and he isn't joining LeBron James just to come off the bench.
According to the Los Angeles Times' Tania Ganguli, Rondo will have the opportunity to win the starting point guard job from Lonzo Ball after signing a one-year, $9 million deal:
Rondo has been told it'll be an open competition at starting point guard. One source close to Lonzo Ball tells me: "Zo's not running from the competition."

— Tania Ganguli (@taniaganguli) July 2, 2018
This is only a little awkward. LeBron is the real point guard in Los Angeles, and there's no guarantee Ball is even still around the start the season. The San Antonio Spurs aren't believed to want him in a potential Kawhi Leonard trade, but he could be rerouted to a third team that sends them something else, or he could be part of another blockbuster deal altogether.
Assuming Lonzo sticks in Los Angeles, then yeah, giving Rondo a chance to stunt his learning curve is a little weird. At the same time, the Lakers don't really have much of a choice. They have LeBron James. Their timeline is inherently accelerated with him in tow, no matter how much patience and leeway he's affording them. If Rondo ends up being the better option to start, then so be it.
And there's a chance he could be. Never mind the basketball IQ argument. Ball is no slouch in that department. He also tries harder on defense than Rondo, who really only locks in on that side for the playoffs.
To play beside James, though, you need to be a reliable off-ball shooter. Rondo isn't yet that, but his three-point accuracy has improved over the past couple of years. Unless Ball hones his outside jumper, as he kind of did toward the end of last year, there's no guarantee he's the better immediate fit next to James. Whether catering to that immediacy is the right call will be another matter entirely. But this is a real dilemma the Lakers have created—and, under the circumstances (LeBron's arrival), they'll welcome it.