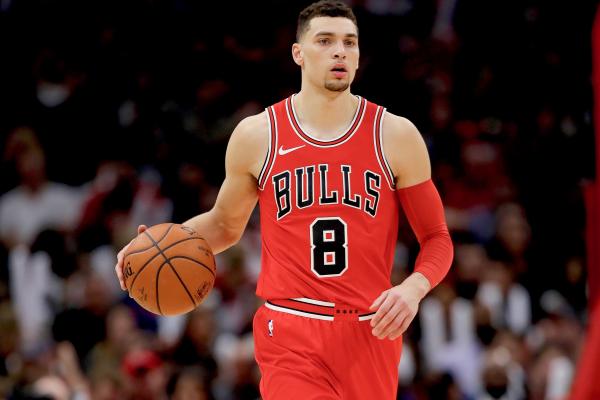 When Zach LaVine becomes a restricted free agent, he may have fewer than 25 games under his belt since suffering an ACL tear with the Minnesota Timberwolves last season. Though he has since rejoined the Chicago Bulls rotation, he's once again sidelined with tendinitis in said knee—a setback that could adversely impact the value of his next contract.
Whatever, though. He doesn't care.
From the Chicago Tribune's K.C. Johnson (via RealGM):
LaVine was asked if he believes he's worth a max contract.

"There are things you work for," LaVine said. "Max players are top of the line. There are a lot of dudes in the NBA who haven't been top of the line because of money situations or the cap is bigger or a weird offseason.

"You are what you're worth. Obviously, you can't say no to getting one. I see myself being an elite player in this league. I'm going to work for that every day until I get there." . . .

"I'm not stressed at all. Whatever the number is or terms they're going to come to, it will happen. That's why I have great agents. And we have respect, communication and understanding with the front office (so) we'll let that work itself out.
LaVine is viewing his restricted free agency through the correct scope. He's not going to get a max deal, and he appears to know it.
Not only is he still working his way back from a major injury that could bilk him of some athleticism, but the NBA's free-agent market has cratered in the aftermath of 2016's spending binge. Teams won't be handing out max contracts willy nilly. Free agents—especially restricted free agents—are supposed to get squeezed this summer.
That doesn't mean the Bulls will re-sign LaVine at a bargain. Rival teams know they considered him a centerpiece of the Jimmy Butler trade. They also know that means the Bulls may be willing to match almost any offer that comes his way, for fear of having to let their primetime acquisition walk for nothing. If the right general manager comes along, he could help LaVine secure a massive payday while torching the Bulls' books in the process.