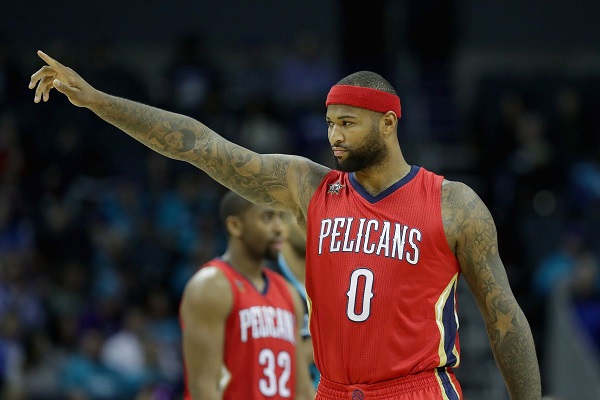 DeMarcus Cousins is a former All-NBA performer, a 4x All-Star and one of a select few active players who has averaged at least 20 points and 10 rebounds per game for his career.
When you consider that and the fact that he is 27 and should be entering the prime of his NBA career, the idea of not re-signing him as an unrestricted free agent seems like outright insanity.
In the Pelicans case it is the right decision even if it is the unpopular one, and here is why…
Reason No. 1: A torn Achilles is the worst common injury that could happen to a basketball player.
This injury isn't as common or well-known or treated as a torn ACL, but the severity is just as bad or worse as a lot of an athlete's explosiveness, quickness and agility derives from their Achilles tendon.
Here is a description of what your Achilles tendon does for you from Doctor Ken Stone, courtesy of an SB Nation article by Tim Cato:
The Achilles tendon attaches the calf muscle to the heel bone. It's designed to stretch, it's designed to absorb force when the athlete lands from a jump. It's designed to provide power for push off when taking a running step. And so, Achilles tendon ruptures are classically the scourge of a 40- to 60-year-old male. It's uncommon in sports injuries for it to be women or it to be younger athletes. So the unusual Achilles rupture in the basketball player or a female is usually bad luck — landing from a bad position, landing awkwardly hard on the leg.
According to a study from the American Sports Journal of Medicine in 2013 (and referenced in the SB Nation article), 18 NBA players were identified as suffering a major Achilles tendon injury from 1988 to 2011, here are some results:
-7 Players never returned to the NBA
-Of the 14 who did return, they missed an average of 56 games in their first two seasons back
-Players saw a decline in their Player Efficiency Rating (PER), averaged fewer minutes and their field goal and three-point field goal percentages dropped.
Here are a list of some NBA players who have suffered the injury in the past 25 or so years:
Kobe Bryant
Wes Matthews
Rudy Gay
Brandon Jennings
Anderson Varejao
Chauncey Billups
Mehmet Okur
Elton Brand
LaPhonso Ellis
Dominique Wilkins
Of this list, Billups struggled to stay on the floor after his return and was out of the league within two seasons, Brandon Jennings found himself out of the league until very recently and just barely flashed a glimpse into his previous self for a game or two in Milwaukee this season. LaPhonso Ellis averaged 9.3 points per game in six seasons after his recovery after averaging 22 points the season before and Voshon Leonard only played in 29 more NBA games.
Kobe Bryant did it at age 34, but he was averaging 27.3 points per game on 46% shooting that season and played in only 107 games in three seasons after the injury, averaging 19 points per game on 37% shooting from the field.
Rudy Gay is too early in his recovery to judge him after the fact.
Wes Matthews recovered quickly and relatively well, although his true shooting percentage, field goal percentage and PER have gone down. He is still a solid and dependable NBA players three years later.
There is one guy who excelled even after tearing Achilles, Dominique Wilkins. Nique averaged 28 points and seven rebounds the next two seasons after the injury before he began a natural decline in his mid-30s.
Now we get to the crux of the analysis and the more comparable players to Cousins with his height and size.
Of the players over 250 pounds to suffer this kind of injury here are the results:
Elton Brand:
-Suffered the injury at age 28
-Averaged 20 and 10 in the eight seasons before the injury
-Averaged 12.7 points and 7.2 rebounds the next four seasons after the injury and saw his shooting, true shooting and offensive box plus/minus decrease
Mehmet Okur:
-Suffered the injury in the 2010 NBA Playoffs at age 30
-Averaged 13.5 points and 7.1 rebounds that season before the injury
-Played only 30 more games in his NBA career over two seasons
Anderson Varejao:
-Suffered the injury at age 32
-Played 65 games the season before the injury, his healthiest in years
-Played only 67 games and 8.7 minutes per game in those games over two more years
No player of Cousins size has ever truly recovered from an ACL injury. He will have the best chance with recent advancements and the quick recoveries of Wes Matthews and Rudy Gay and the fact that he suffered the injury at 27, but history and possibly science are not on his side.
Reason No. 2: The Pelicans are Better With Anthony Davis at Center
The New Orleans Pelicans have had what amounts to almost a full season with Anthony Davis and DeMarcus Cousins playing together.
While they have wowed with their ability to continue to produce at the same incredible statistical levels alongside one other and were on track to become the first duo to ever average 25 and 10 each for a full season in 2017-18. If you really look at their level of success with and without Cousins over the past year and a half, it is clear they excel with Davis at center.
New Orleans is 37-34 in 71 games with Davis and Cousins playing together. As of Tuesday night with their Game 2 victory on the road against the Blazers in Round 1, they are 23-13 without Cousins this season.
As of January 26 when Cousins went down, the Pelicans were ranked 22nd in the NBA in defensive efficiency. Once the season ended on April 11, they had moved up to 14th.
With Davis at center and a stretch floor who can also get on the defensive glass in Nikola Mirotic, Davis is unleashed once again as a freakish center built for the NBA in 2018 who can stretch the floor and have the space to roam and operate in the paint or on the pick-and-roll with Rajon Rondo or Jrue Holiday.
Reason No.3: They need the cap flexibility to improve their roster
The Pelicans already have just over $100 million in committed salary for 2018-19 and that doesn't include the $27 million cap hold for DeMarcus Cousins, and just under $8 million in cap holds for Rajon Rondo, Ian Clark and Jordan Crawford.
According to Spotrac, they currently are 29th in potential cap space out of 30 teams in the NBA this summer, with the potential to only carve out $689,000 in practical cap space.
Re-signing Cousins to a max deal means the with the luxury tax they will virtually have no ability to add much needed depth and talent on the wing, where they are currently working with E'Twuan Moore, Solomon Hill, Ian Clark and Jordan Crawford. In all fairness, Jrue Holiday has been excelling at the two alongside Rajon Rondo.
The Pelicans badly need another player who can create his own shot and could use a 3-and-D to space the floor even more for Davis to operate. That becomes impossible to find through free agency if they are locked in to a new DeMarcus Cousins contract at the max.
In summary, while it may piss off the Pelicans fan base and even draw the ire of Anthony Davis (initially), paying more than $30 million per season to a 270 pound center coming off of an Achilles injury when you have almost no cap flexibility to start with is not a smart personnel decision. You can take one look around the league to see that going smaller is the way the league is headed, and paying two centers max money is not the best decision for your franchise.
While they could try and follow the strategy employed by the Clippers with Blake Griffin, Griffin didn't enter this season recovering from an Achilles injury and the Clippers were fortunate to find a desperate team in the Detroit Pistons, the Pelicans may not be so lucky.
The further the Pelicans go in this postseason, the more apparent it should be to the organization that it is best served to cut ties with Cousins this off-season, as hard of a pill as that may be to swallow.