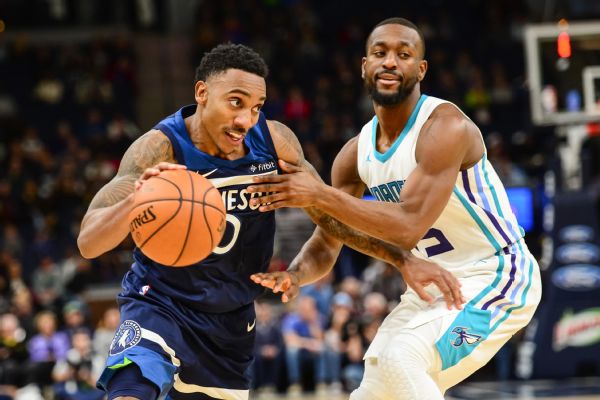 Someone on the Minnesota Timberwolves appears to finally be fed up with Tom Thibodeau's minutes distribution.
That someone is Jeff Teague.
The Timberwolves fell to the Memphis Grizzles on Monday—yes, those Grizzlies. The tanking Grizzlies. Not having Jimmy Butler in the rotation isn't a viable excuse for losing to them. Not when Wayne Selden is torching you for 20-plus points.
Anyway, Thibs had four players log at least 39 minutes, three of whom finished north of 40. He gave Jamal Crawford more than 30, Gorgui Dieng around 14 and Tyus Jones fewer than six. And that was that. His entire rotation spanned eight guys deep. Really, it was seven guys deep, since Jones barely saw the floor.
Afterward, Teague not-so-subtly hinted that Thibs' minutes distribution could be costing the Timberwolves, per The Athletic's Jon Krawczynski:
Teague on the bench: "Guys get tired. I think they need opportunities. … Hopefully Thibs sees that they can really help."

— Jon Krawczynski (@JonKrawczynski) March 26, 2018
So, like, Teague has a point. A really good one.
The Timberwolves' bench has totaled just over 1,000 collective minutes for the season—more than 200 fewer than the 29th-ranked Oklahoma City Thunder, per NBA.com. The starting lineup of Teague, Butler, Andrew Wiggins, Karl-Anthony Towns and Taj Gibson has also seen over 200 possessions more than any other lineup in the league, according to Cleaning The Glass—and Butler hasn't played in the past 13 games.
So, yeah, Teague absolutely has a point. Thibs is going to risk burning out his players prior to the postseason—and that's assuming they even get there. They have a 1.5-game hold on eighth place in the Western Conference, and they still don't know for sure when Butler will return or how close to regular form he'll be upon taking the court. And while neither the Los Angeles Clippers nor Denver Nuggets are doing their part to make them sweat, the Timberwolves may have to expend every last ounce of energy just to earn the rights to suffering a first-round exit at the hands of the Houston Rockets.