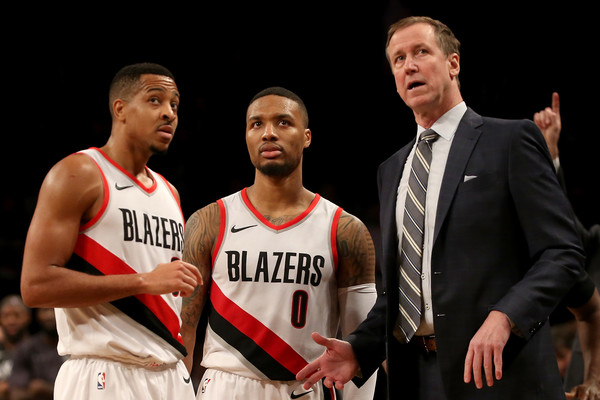 With one of the league's seven highest payrolls, yet only the 12th-best record, the Portland Trail Blazers find themselves in a weird spot as they barrel toward the NBA's Feb. 8 trade deadline.
Some will argue they should begin a quasi-teardown, dealing away some of their larger salaries in favor of cap relief and, if they're lucky, a combination of picks or prospects. Others might support a full-scale reset. And there are those who will want them to go for it—to use whatever means are at their disposal to nail down an impact acquisition that elevates their ceiling in the still-untamed Western Conference.
Regardless of what your expectation is for the Blazers, any major pivot, toward a rebuild or supreme win-now play, begins with their backcourt of Damian Lillard and C.J. McCollum. They're two of the most talented offensive players in the league, and they're currently coexisting on the NBA's seventh-best defensive squad. Yet, it sometimes seems as if we're waiting on them to trade one, most likely McCollum, in pursuit of a new direction.
And it looks like we're going to keep waiting.
According to The New York Times' Marc Stein, who ostensibly predicted the team would move one of its prized guards by the end of 2018, the Blazers aren't interested in talking about trades for either McCollum or Lillard:
This is the year Portland will break up the potent backcourt of Damian Lillard and CJ McCollum: The Blazers don't want to trade either one, especially when they awoke Wednesday ranked seventh in the league in defensive efficiency despite the annual external skepticism about the pairing's capabilities at that end of the floor. But the easiest path to balancing the roster is by parting with one of their two guards — most likely McCollum — for a package headlined by a frontcourt player on their level. No one's suggesting it'll happen before the Feb. 8 trade deadline, but Portland's latest so-so season threatens to be the impetus that finally pushes the longtime Blazers owner Paul Allen in a new direction.
Playing both sides of the fence makes sense here. The Blazers, as currently constructed, aren't making a run at the Golden State Warriors, Houston Rockets or San Antonio Spurs. At the same time, midseason shifts seldom result in the instant gratification they're supposed to instill. Even if the Blazers traded McCollum for another star or a combination of role players, it takes time for new pieces to be integrated.
Moves like the one Portland would be making by dealing part of its starting backcourt are best left for the offseason. Check back on this situation then. Just know that, no matter what, the Blazers will first and foremost try to futz and fiddle elsewhere, with anyone else on the roster, before they break up Lillard and McCollum.