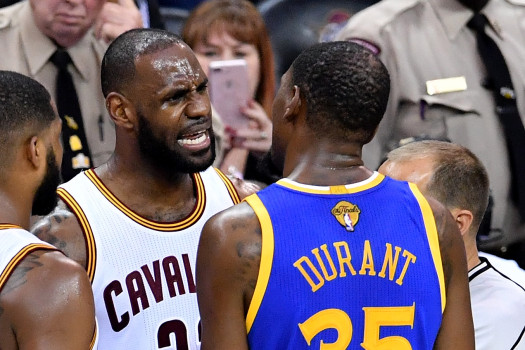 Kevin Durant cannot have YouTube commenters thinking that LeBron James is better than him—at least not without offering his one syllable's worth.
The NBA Finals MVP answered a comment from a fan on YouTube claiming that the Cleveland Cavaliers superstar is the better player (h/t Bleacher Report). He responded to the statement, because he is Kevin Durant, and responding to people's responses is part and parcel of the Kevin Durant experience these days.
His answer: "Nah."
Ah, yes. The ultimate conversation-ender.
In one word, all of one syllable, Durant conveyed his point while disparaging the sentiments of his hater or whatever. A long answer would have given credence to the stance. Not responding at all would have allowed the commenter to live on in triumph, thinking he posted on Durant's feed without any rebuke. This strikes a nice balance.
Granted, Durant isn't better than James. No one is right now. There may be an individual season in which someone is better, as Stephen Curry arguably was in 2015-16, but no one in the NBA is actually better than the four-time MVP. His impact on the game, when engaged, remains ineffably transcendent.
That's not a knock on Durant or anyone else. Many of today's superstars could be better than LeBron on any given night. And one day there will be players who are better than him overall.
Right now, though?
"Nah."