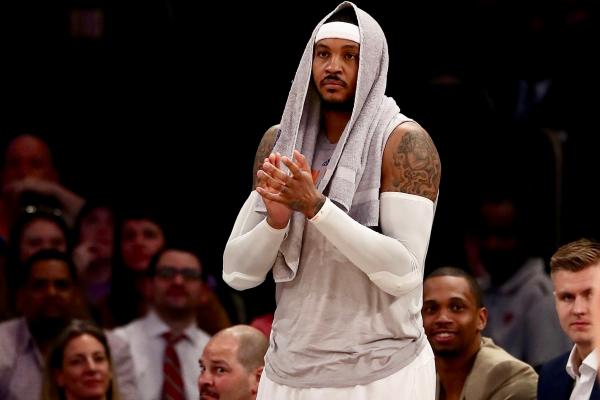 Carmelo Anthony and the New York Knicks remain at an impasse—and it doesn't appear they'll be finding a middle ground anytime soon.
From the New York Post's Marc Berman:
Phil Jackson is out as president, but the franchise's strategy hasn't changed much. A stalemate has ensued as sources indicate Anthony only wishes to waive his no-trade clause to go to the Rockets. Not even Cleveland, which is in turmoil, is good enough for Anthony as the Cavaliers are dealing with Kyrie Irving's trade demand.

The Knicks' management tandem of Steve Mills-Scott Perry claim it won't trade Anthony to Houston unless it cobbles together a solid deal that makes sense for the Knicks' future. Nothing has materialized. . . .

The nearby Wizards would seem an attractive destination for Anthony, but they just matched an offer sheet to small forward Otto Porter Jr. (four years, $106 million). The Post has reported the Knicks want Anthony to expand his wish list and Oklahoma City and Portland reportedly are interested.
No one is wrong in this situation—except the Knicks, who shouldn't have given Anthony the no-trade clause in the first place.
Anthony needn't expand his wish list now. He has the power not to. James Harden and Chris Paul are waiting for him in Houston, and the Cleveland Cavaliers, his at one-time other preferred destination, are trying to figure out what they'll do with Kyrie Irving. And it doesn't matter how many other promising, welcoming situations are out there, be they in Oklahoma City or Portland. Anthony has to waive his no-trade clause for the Knicks to move him. If he only wants to end up with Houston, there's no point in him budging.
At the same time, the Knicks are right for not caving. Trading Anthony to the Rockets means having to take on Ryan Anderson's deal, or absorbing unwanted salary from third and fourth teams getting involved to assume the final three years of Anderson's pact.
So, again, both sides are acting in their best interests, which is good. But someone will have to cave eventually. It'll probably be the Knicks. That's my bet anyway.
Who ya got yourself, though?