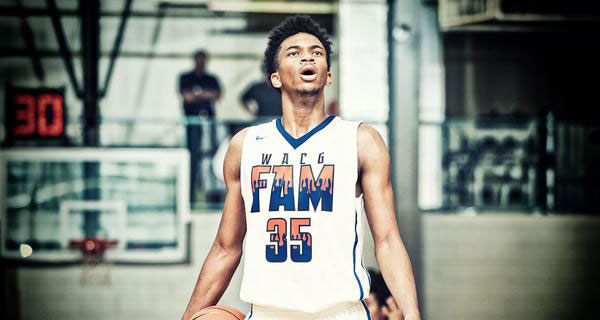 Unlike the 2017 NBA Draft Class, the 2018 prospective crop of top draft prospects class already figures to be very deep in front court players, with top one-and-done players such as Michael Porter Jr., DeAndre Ayton and Mohamed Bamba to name a few.
That crop could get even deeper with the possibility of the best high school basketball player in the world, Marvin Bagley III potentially trying to graduate and re-classify to be able to play Division basketball in the 2017-18 season.
No. 1 recruit Marvin Bagley is considering reclassifying to play college basketball in 2017, per @GaryParrishCBS https://t.co/JWqUpyHrNk pic.twitter.com/4eW6Kxt3OX

— Bleacher Report (@BleacherReport) July 14, 2017
The original report came from CBS Sports Writer Gary Parrish over the weekend.
For those who are unfamiliar, Bagley III may be the best high school prospect to come around since LeBron James in 2003. He is a 6'11" freak athlete who can dominate around the basket, handle the ball and has consistent range out to the three-point line.
He potentially projects to be an Anthony Davis caliber on the pro level.
Here are some highlights of Bagley from high school and AAU ball:
#1 PF '18 Marvin Bagley III (@MB3FIVE ) is the top player in his class for a reason. See full highlight at https://t.co/ngSwhhmxPR #athlazon pic.twitter.com/vvs2w1ncOu

— Athlazon (@athlazon) March 18, 2017
As talented as the top of the 2017 NBA Draft was, the 2018 version could offer more in the way of potential superstars on the NBA level and Bagley could potentially jump right to the head of the crop if he becomes eligible to play collegiate basketball this season.
This is definitely something to keep your eye on.