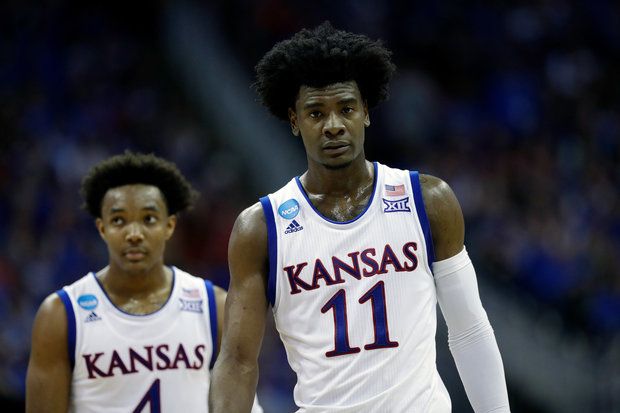 In what figures to be one of the deepest and most intriguing NBA Drafts in a while and with more than a few trade rumors circulating you can expect potential shockers when teams walk up to the podium next Thursday night.
There has been a consensus for months that Markelle Fultz, the silky smooth combo guard out of the University of Washington, (think Brandon Roy) is the prized possession in this draft with his potential to be the lead scorer and go to offensive weapon with his ability to score in a multitude of ways and be the primary ball handler if need be.
Up until recently, the top tier of prospects was Fultz and UCLA point guard and pass-first, play making extraordinaire Lonzo Ball being a close second in the draft pecking order with every one else a notch below.
In my opinion the best player who will come out of the 2017 draft class is neither Fultz or Ball, it is Kansas forward Josh Jackson.
The teams at the top of the lottery may be coming around to that way of thinking as well since the Celtics reportedly are considering Jackson at No. 1 and the Lakers are strongly considering him at No. 2.
Before I explain why Jackson will be the most valuable player in this draft, I will explain why Markelle Fultz and Lonzo Ball may not reach their hypothesized ceilings as NBA player.
Fultz is by far the most developed and skilled offensive talent with his ability to score and be very productive on the offensive end with seemingly minimal exertion, but although he has the length and athleticism to be a good defender, HE seems to only be interested in competing on that end part of the time.
His laid back attitude can be seen as a negative, although it seems like he has a passion for the game, he doesn't seem to be a natural leader and doesn't seem obsessed with winning.
Here is part of a quote from Seth Davis's piece on CBS Sports with anonymous NBA scout on Fultz:
"I don't know that winning has ever been important to him. I've talked to friends who recruited him, and they said even when they watched him in open gyms or playing AAU, his team hardly ever won. That scares the crap out of me."
While that desire for on court team success could be ignited playing for a historic franchise like the Boston Celtics or Los Angeles Lakers, he doesn't have that trait naturally and may never develop it. That is not exactly ideal for a player you are drafting with the No. 1 pick and seemingly building your franchise around.
Lonzo Ball is clearly a special talent when it comes to passing the basketball and putting his teammates in positions to be successful offensively, despite his dad's arrogance, Ball seems to be truly and completely unselfish on the basketball court and has a natural talent to make his teammates better. He also has great size for the point guard position which will allow him to slide over and guard a two-guard. He is a great off-ball defender, but not an elite athlete by any means and was exposed a little having to defend a player with top-notch speed in college in fellow draft prospect DeAaron Fox. He should be a really good player, but with his low and ugly shot and his average athleticism, it may hard for him to become a franchise altering star.
Other top prospects such as DeAaron Fox and Jayson Tatum have their own deficiencies to counteract their talent and potential. Fox has the speed, size, athleticism and defensive ability to be a great two-way point guard that can defend two-guards when needed and lead an offense, but he also is a work in progress and needs to add a bunch of strength and develop a reliable jump shot. Ask Ricky Rubio and Elrid Payton how hard it is to be a good point in the NBA today with elite passing and defensive abilities but no jump shot.
Tatum is a very skilled offensive player that could be a 20 point per game scorer within his first few years in the NBA, his ceiling is a slightly less athletic Carmelo Anthony, but is a below average NBA athlete who was a horrid defender in college and may struggle to not be a liability on defense. Could he be a less athletic Rudy Gay? Scouts are hoping he is Paul Pierce.
That leaves us with Josh Jackson. He is a 6'8″ 205 pound small forward who has displayed elite athleticism, defensive acumen and ability and high-level hustle and passion for the game. While his shot needs improving and maybe retooling, he still shot 37% from three in college and used his other offensive talents to average 16-7-3 for Kansas as a freshman with a 55.2% effective field goal percentage.
Jackson is a good passer and has a natural feel for the game as well, he also plays with a chip on his shoulder and a bit of the passion and attitude that Markelle Fultz seems to lack.
He also has elite quickness and a great first step that allows him to catch a ball and quickly slash to the rim and finds himself at the rim.
Here is a quote from the anonymous draft scout in that same Seth Davis article:
"He's my favorite player in this draft. As gifted a scorer as he is, I think he has a lot of untapped potential in that area. The off-court stuff is definitely a concern. You're talking about two incidents in one year. Is that going to be a lingering issue? You don't have to run plays for him. I think one day he could be a Jimmy Butler type guy. He has shooting deficiencies, but they went in at Kansas. I don't know how they went in, but they did. He plays with a chip on his shoulder. If he's able to shoot, he'll be a Grant Hill or an Iguodala. If he doesn't, he'll be like Corey Brewer, which is still pretty good."
Jackson seems to have all of the tools and gifts an NBA team is looking for today with his ability to defend multiple positions and score in different ways.
If he is able to develop a reliable jump shot as a weapon, he could be the closest thing in this draft to becoming the next Kawhi Leonard.
Whomever drafts Jackson in the 2017 NBA Draft may be getting the cream of the crop of this year's draft prospects a few years down the line.