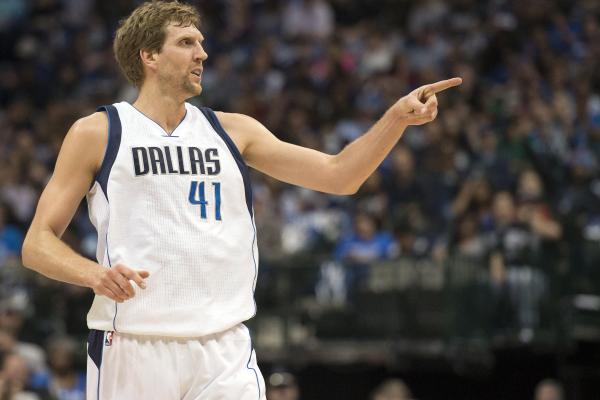 The Dallas Mavericks informed Dirk Nowitzki they would be declining his team option on Sunday. But don't worry: This is all part of a plan. He isn't going anywhere.
Here's ESPN.com's Marc Stein with the deets:
The Dallas Mavericks have informed Dirk Nowitzki that they will decline their $25 million team option for next season with the intention of signing the face of their franchise to a new contract, according to league sources.

The Mavericks have a Thursday deadline to notify the league of their intentions regarding the second season of the two-year, $50 million contract Nowitzki signed last July.

But sources told ESPN that the club will work with Nowitzki next month to structure a new deal to his liking. A two-year deal is an option being strongly considered, sources said, despite the fact Nowitzki has made it clear that he wants to make decisions on a season-by-season basis at this stage of his career.
Stein also relayed that the Mavericks plan on doing "what Dirk wants," but this move likely has free-agency implications as well. Depending how much of a discount he's willing to accept, Dallas could end up with $15 to $20 million in cap space. They might even get more.
Carving out that much money is enough for them to add one impact player, preferably someone who helps them straddle their half-rebuilding, half-playoff-chasing timeline. They might also just be willing to overpay Nowitzki again and evade free-agency investments altogether. They drafted point guard Dennis Smith Jr. at No. 9, have a young Nerlens Noel on the roster and could be out from under Wesley Matthews' contract as early as next summer (player option).
Whatever the Mavericks decide to do, Dirk will be a part of it. These two sides have always done right by each other, and that won't change now.