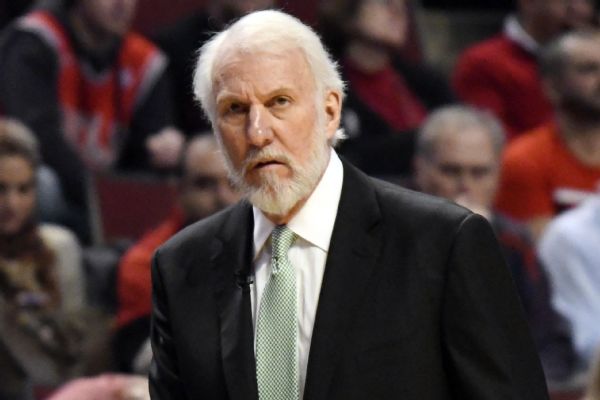 How much did the 27-point drubbing the San Antonio Spurs suffered at the hands of the Houston Rockets in Game 1 stick with Gregg Popovich?
So much so, he didn't have a glass of wine afterward…apparently.
Coach Pop was in prime form while speaking with reporters on Tuesday, a day after his Spurs imploded against the Rockets. Here are his greatest hits, including the wine admission, courtesy of the San Antonio Express-News' Melissa Rohlin:
Surrounded by a group of reporters, the five-time championship coach told everyone to ask someone else questions.

"What do I know, we just lost by 50?" Popovich said, letting out a chuckle. "What are you asking me questions for anyway? Ask somebody who knows something, who can fix this?"

A reporter then asked Popovich if there's a silver lining to Game 1 — the Spurs couldn't have played much worse.

"Ok, we'll take that one too," Popovich said. "Pile it on. Pile it on."

Popovich wouldn't reveal whether he watched film as soon as he got home Monday night, which couldn't have been before midnight following the 8:30 p.m. tipoff, saying, "That's personal."

But he did shoot down a reporter who asked him if he was able to enjoy his wine following the rout.

"I didn't have any wine," Popovich said. "More fake news. It's everywhere."
Well, this is friggin' awesome.
Pop would eventually go on to be more serious in his answers, and there's no doubt he's taking that Game 1 performance to heart. The Spurs were absolutely torched on the defensive side of things. They couldn't figure out how to defend Houston's pick-and-rolls, and many of the 50 three-point looks they gave up were wide-open.
Parts of their demise will be solved if they can hit shots of their own. They were just 9-of-29 from beyond the arc (31 percent) and shot 36.9 percent overall. Hitting more of their looks allows them to get their defense set, which in turn makes it harder for the Rockets to push the ball in transition. That the Spurs only lost the fast-break battle in Game 1 by six points (27-21) is actually a minor miracle.
Simply taking and making more threes won't be enough, though. The Spurs, on their best night, probably aren't going to hit 22 triples like the Rockets did. They don't launch the long ball with nearly enough frequency. So while Pop resisted running out a bunch of small-ball combinations in Game 1, opting instead to stick with dual-big frontcourts, he may need Kawhi Leonard to dabble in power forward duty in Game 2 and beyond. The Spurs have gotten this far by forcing other teams to make adjustments to them, but if the Rockets' contemporarily constructed five-man units keep sticking it to them, they have to do something drastic to even the stylistic field.