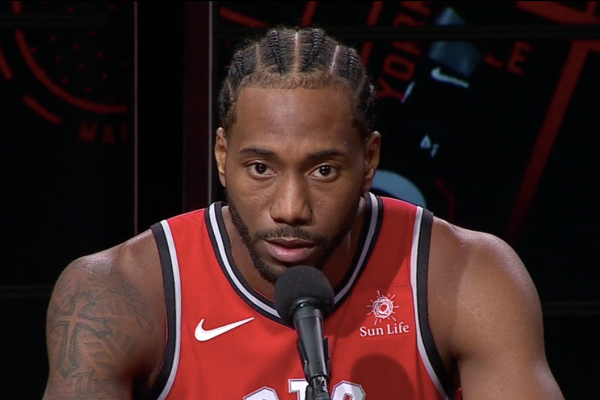 Toronto Raptors star Kawhi Leonard spoke out Sunday and addressed critical comments from Spurs coach Gregg Popovich that Leonard was not a leader during his time in San Antonio.
Popovich understands Leonard's value, having coached him for seven seasons but he did comment that leadership wasn't his forte.
"Well, Kawhi [Leonard} was a great player, but he wasn't a leader or anything," Popovich said. "Manu [Ginobili] and Patty [Mills] were the leaders. Kawhi's talent will always be missed, but that leadership wasn't his deal at that time. That may come as he progresses, but Patty and Manu filled that role for us last year, and LaMarcus [Aldridge] came a long way in that regard also."
Yes, Kawhi Leonard may be on the more quiet side but he still considers himself a leader. He has helped the Raptors reach a league-best 17-4 record.
Here's what Kawhi had to say about Popovich's comment:
"It's funny to me, because, I don't know if he's talking about last year or not. I guess when you stop playing, they forget how you lead," Leonard told reporters after the Raptors' 125-115 win over the Miami Heat on Sunday, according to theScore's Joseph Casciaro. "Other than that, it doesn't matter. I'm here with the Raptors and I'm focused on this season, not what's going on the other side."
"I lead by example coming into practice every day. Just going hard and coming into these games mentally focused," said Leonard. "You can't see things once you're playing on the floor. Guys ask me questions about their matchup, or if I see something on the floor, I'm telling guys, 'Go here, go there,' just motivating people.

"I'm just trying to lift people's spirits up, that's about it. Don't try to get anybody too down, just lift them up."
Leonard appears to be back in top form. He is averaging a team-high 24.7 points a game on 47.5 percent shooting with 8.5 rebounds, 3.0 assists and 1.7 steals. The Spurs, on the other hand, are 9-10 and in the middle of a tightly packed Western Conference.
Leonard is expected to make his return to San Antonio when the Raptors visit on Jan. 3.