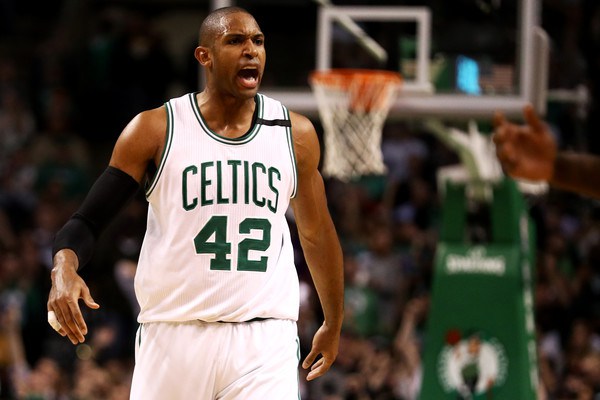 When the Boston Celtics signed Al Horford to a four-year, $113 million contract over the summer, it was considered a no-brainer. Very rarely do you get a chance to add an All-Star in the NBA without coughing up significant assets. They were able to land while sacrificing only cap space (and perhaps Jared Sullinger's return).
Since the playoffs started, though, a fringe-slander campaign has begun at the expense of Horford. People were upset with his defensive rebounding performance against Robin Lopez in the first round. They were mad he only took eight shots in Boston's Game 2 loss to the Chicago Bulls. He was overpaid. Overrated. The Celtics made a mistake giving him so much money.
Which, LOL.
Nothing could be further from the truth. Horford isn't the best defensive rebounder, and his defensive rebounding rate did, in fact, take a nosedive with Lopez on the floor in Round 1, according to NBA.com. But he does basically everything else, and does it well. He has been Boston's best two-way player, hands down, during the playoffs, and the Celtics have no regrets about bringing him aboard.
As team president Danny Ainge said, per the Boston Herald's Steve Bulpett:
"I'm just amazed because we were so thrilled at the chance of getting Al even before he decided to come to us," he said. "And I think that every one of us is even more grateful for Al after having him with us.

"But it seems like some fans don't understand, maybe because they're playing fantasy league or something. I don't know. But we're trying to win basketball games, and Al Horford, his offensive and defensive presence, has been enormous for us this year. We'd be nowhere near where we are without him, and I don't think there's any player, coach, anybody that is around him day to day that doesn't understand and appreciate him. Not just his value but his amazing value to our team.

"You just look at some of the data stuff that people come up with, and he's like the best player numbers-wise in the Chicago series. But people still look at 14 points and how many rebounds and blah blah blah."
Everything he just said is correct.
Deep-divers understand Horford's value. Even some more casual fans get it. The most casual viewers, however, don't seem to fully understand that Horford's value lies in his versatility—in his capacity to be a screener, floor-spacer, facilitator, defensive switcher, secondary rim protect, pick-and-roll slasher and so much more. He does so much, so well, the mere threat of his mixed bag of tricks forces teams to adjusts.
On most nights, you can see that value, both in the box score and through the eye test. As for the nights you can't, well, that most likely means you aren't looking hard enough.