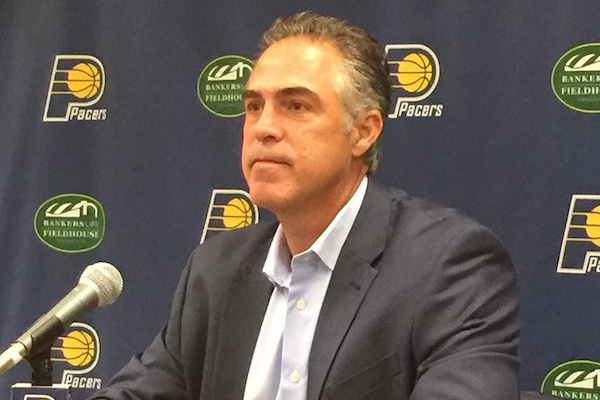 In taking over for Larry Bird as the Indiana Pacers' team president, Kevin Pritchard is not inheriting an enviable position.
Yes, there's Paul George's future to consider. But the roster in general is woefully imbalanced. There's likely no getting out from under the Monta Ellis and Al Jefferson deals, which aren't terrible, but are just bad enough to be a hindrance. Pritchard also has to make decisions on free agents C.J. Miles (player option) and Jeff Teague, both of whom are due for massive raises.
The Pacers absolutely need to trade George. The matter is still up for some debate, but he's likely gone if he doesn't qualify for the designated player extension, worth in excess of $200 million, by making an All-NBA team. He can become a free agent in 2018 (player option) and the Los Angeles Lakers loom as real threats. And even if he does qualify for that extension, should the Pacers want to give it to him? Spending more than $200 million on one player is a lot—perhaps too much for a small-market team. That investment definitely, to some degree, scared the Sacramento Kings into dealing DeMarcus Cousins. George just turned 27. By the time the second or third year of that deal, if not sooner, he'll be on the back end of his athletic prime. The Pacers could re-sign him with the intent to strike a trade later, but that represents uncharted territory. No player has even signed a DPE yet, let alone been traded after inking one. It's unclear how the dynamics of a monstrous salary would factor into the equation.
Given the circumstances, Pritchard would be better off taking a stick of dynamite to the roster and going from there. But that's not his plan, even if the team deals George, per the Indianapolis Star's Clifton Brown:
With or without George, Pritchard has no interest in rebuilding. He envisions a roster centered around George that is tougher, better defensively and less dependent on George to carry the load. If the Pacers become a more effective team once the ball leaves George's hands, perhaps George will be convinced he should not leave Indiana.

"If you're watching the playoffs right now, you have to have multiple ballhandlers to make plays," Pritchard said. "You can take one guy out all the time. It's tough to take two guys out, and almost impossible to take out three."
If this is, in fact, Pritchard's stance, we should expect the Pacers to shop George to teams that can offer impact players in return. The Denver Nuggets spring to mind if they're willing to roll the dice on George's future. The Portland Trail Blazers can finagle something as well if they're willing to give up C.J. McCollum (which they probably aren't). The Boston Celtics forever deserve an honorable mention around these parts.
Whatever the potential landing spot, the Pacers' desire to eschew a rebuild makes them wild cards this offseason. Will they re-sign Teague and Miles just to keep a playoff team intact? Would they re-sign them if the plan is to trade George? Where will they look to trade him? Will they even contemplate trading him?
It's a tenuous situation, one Pritchard, unfortunately, has very little time to absorb before being forced to pick a direction.