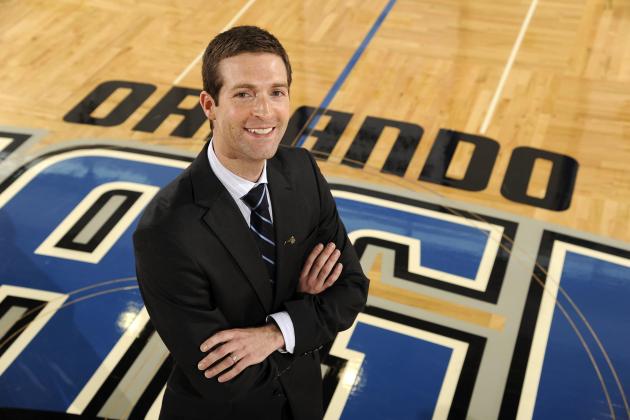 While it is always a difficult and unfortunate decision for an organization to fire their general manager and move forward in a different direction, it was time for the Magic to move on from Rob Hennigan.
Sources: Magic fire GM Rob Hennigan; team finished 132-278 during his tenure. @WojVerticalNBA report. https://t.co/b4aifgRHLk pic.twitter.com/Hv3ZbYNXKN

— The Vertical (@TheVertical) April 13, 2017
The Magic never made the postseason in Hennigan's five seasons and are currently on their 3rd head coach. Hennigan blew up most of the progress he made in the earlier part of his tenure by dealing former No. 2 pick Victor Oladipo and talented, young forward Tobias Harris for essentially Terrance Ross and a late 1st round pick.
Their 2016 off-season moves blew up in their face as well, as the acquisition of Serge Ibaka, Bismack Biyombo and Jeff Green resulted in little success and less wins as the Magic had their worst season in three years after trying to get veterans to return to the postseason.
On top of everything else, Hennigan also embarrassed and put the franchise in an uncomfortable position in recent weeks when a supposed photo of the team's off-season plans and targets on a whiteboard was tweeted out in the background of a tweet about a contract signing of Patricio Garino.
The Orlando Magic accidentally released their summer trade and free agency plans with the signing of Patricio Garino. pic.twitter.com/U4wG1XomTd

— PinPoint Sports (@SportsPinPoint) April 4, 2017
Adrian Wojanarowski broke down how much the leaked photo embarrassed the organization, although saying his fate was already sealed:
"Near the end of the season, Hennigan inadvertently took a photo of the Magic's internal plans on a white board while snapping a photo of a player signing a contract. Once that photo was posted on social media – and the fallout from the information made public began to hit the franchise – Hennigan had to suffer one more indignity on the job.

Nevertheless, the Magic had already decided to dismiss Hennigan, league sources said, and the instance had no ultimate bearing on his future."
Reports had already surfaced that Hennigan had decided not to accept an offer of Nikola Vucevic and either Evan Fournier or draft picks for DeMarcus Cousins.
Here is what Rich Bucher of Bleacher Report wrote:
"Multiple league sources say the Magic turned down the chance to deal Nikola Vucevic and either Evan Fournier or draft picks to the Kings for the contemptuous All-Star center earlier this season. Hennigan apparently was concerned about both his ability to re-sign Cousins this summer and building the franchise around yet another high-maintenance big man."
While I personally think that could have been a decent decision long-term, it is clear that Hennigan had worn his welcome with the Magic.
It will be interesting to see how this effects their 2017 NBA Draft strategy.