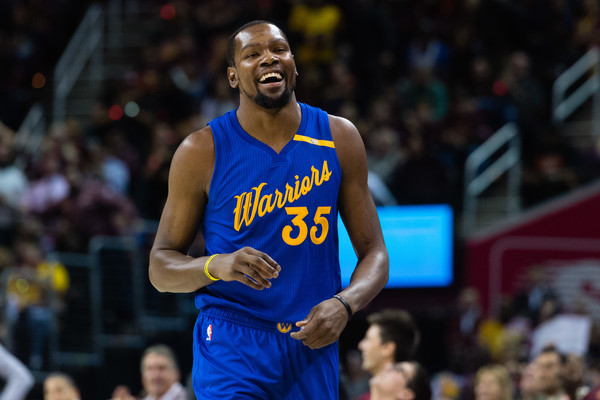 Kevin Durant didn't partake in the Golden State Warriors' Game 2 matchup with the Portland Trail Blazers on Wednesday night. He wasn't alone, either. Matt Barnes and Shaun Livingston joined him on the shelf.
It didn't matter. The Warriors pummeled the Blazers, winning 110-81. If you think such a decision victory, along with a 2-0 series lead, is a cushion that might compel Golden State to play it safe with Durant's strained left calf, you're right. There's a chance he won't be playing in Game 3 on Saturday in Portland. And that was the case even before the Warriors won Game 2, per the Bay Area News Group's Tim Kawakami:
NBA source: Durant will miss tonight obviously, is day-to-day, and there is a chance the Warriors hold him out for Game 3, also.

— Tim Kawakami (@timkawakami) April 20, 2017
Warriors head coach Steve Kerr spoke briefly about Durant's status after the win, per the Bay Area News Group's Anthony Slater:
Steve Kerr says commanding 2-0 series lead "could" factor into decision to bring Durant back in G3, but "If he's ready to play, he'll play" pic.twitter.com/EzaS1ZsT9A

— Anthony Slater (@anthonyVslater) April 20, 2017
And he also offered this beforehand:
Kerr on Durant: "I can tell you, I've seen these injuries before. You don't want the next step. You pull a calf, that's a pretty big deal."

— Anthony Slater (@anthonyVslater) April 20, 2017
It's a stretch to say all signs point toward Durant being a spectator in Game 3. And yet, it would almost be a surprise to see him play. The Warriors don't need him to win this series. Hell, they won't even need him to beat the Utah Jazz or the Los Angeles Clippers in the next round.
They need him later in in the playoffs, in the Western Conference Finals against the San Antonio Spurs and Houston Rockets, and in the NBA Finals, against, presumably, the Cleveland Cavaliers.
Calf strains, like hamstring injuries, are fickle issues. If the Warriors have the opportunity to play it safe, they're going to play it safe—as they should.
In fact, with the way this series is unfolding, and knowing how macro-focused this team is, don't count out the possibility Durant doesn't suit up again until the second round. Things might change if the Warriors suffer a loss and have to host Game 5 back in Oakland, but if they continue tracking toward a sweep, they might take the chance to give Durant and his calf that extra rest.