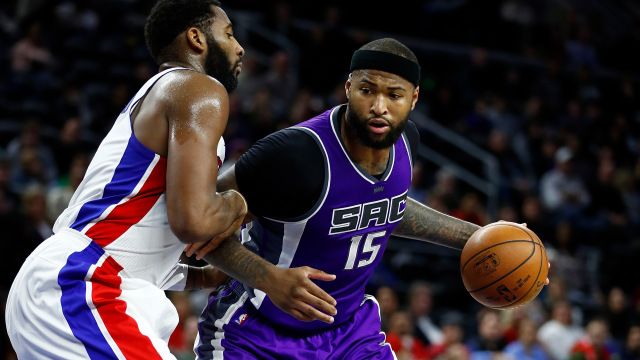 Now in the aftermath of one of the most high-profile trades the NBA has seen in years with DeMarcus Cousins joining Anthony Davis to form maybe the most talented front court in NBA history or at least since Hakeem Olajuwon and Ralph Sampson in the 1980s, more and more information is surfacing about what may have been or not been available to the Kings.
According to multiple reports, the Lakers wouldn't part with Brandon Ingram, the Magic had lukewarm interest, the Suns insisted on the Kings taking Brandon Knight off their hands and the Celtics may have been out of the discussion altogether.
There is one incredibly intriguing and overlooked snippet from the Kings process of deciding whether or not to trade Cousins this season, courtesy of Basketball Insiders Writer Michael Scotto…
Sources: Pistons engaged Kings on a Drummond for Cousins swap earlier this season. Kings declined offer then. Unclear if Pistons now in mix.

— Michael Scotto (@MikeAScotto) February 20, 2017
That is some pretty mind-blowing information and one more example of why timing is everything in life. The Kings could have acquired another center who is three years younger, already locked up with a max deal before the veteran designation maximum with the new CBA and is about 90 percent as good a player as Cousins with 10 percent of the attitude.
What did the Kings end up with? A mid first round pick, a second round pick, a role player in Buddy Hield, expiring contracts and a better chance at keeping their own pick this year.
That is what happens when a bi-polar and indecisive organization makes the decision to trade their star four days before the trade deadline and every potential suitor knows they are wanting to make a deal as soon as possible.
Imagine how much more excited the Kings would be to have Drummond to show for Cousins and how much Cousins would have either despised or had a bizarre love affair with outspoken Pistons Head Coach Stan Van Gundy.
As a Kings fan this shouldn't make you feel any better today, but as an NBA fan I think we got the even more interesting scenario getting to watch Cousins and Anthony Davis co-exist on the same team.