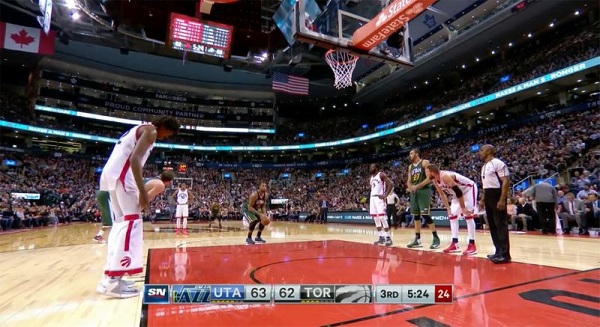 Lucas Nogueira is a third-year player out of Brazil who is seeing his first consistent playing time in the NBA this season. He is a valuable shot blocker and rebounder in a reserve role for the Toronto Raptors playing 19 minutes per game.
Fun fact, when I was in Las Vegas for NBA Summer League two and a half years ago I also saw Nogueira blissfully enjoying the wonders of Fogo de Chao, a popular all-you-can-eat Brazilian steakhouse.
Back to the story at hand though, Nogueira for whatever reason, felt a very strong urge to prevent Utah Jazz forward Derrick Favors from being able to focus while shooting a free throw in the 3rd quarter of the Raptors-Jazz game that took place in Toronto on Thursday night, so he dropped his shorts…
LOL LUCAS NOGUEIRA WHAT ARE YOU DOING ??https://t.co/pxjaJoJw84

— Raptors Nation™ (@WeTheNorth__) January 6, 2017
To his credit the bizarre and perplexing act worked as Favors missed the free throw and the Raptors never looked back, winning the game 101-93.
Nogueira has guaranteed he will be a strong candidate for the Shaqtin A Fool of the year award, and is already getting strong buzz from the committee I am told.
I get the sneaking suspicion that Nogueira may have been listening to this to get himself up for Thursday night's game…