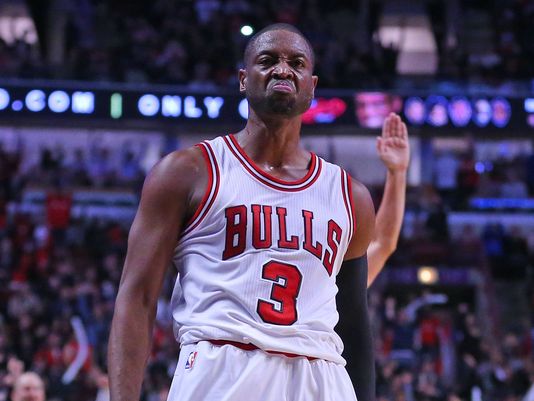 Dwyane Wade made his debut playing for his hometown team, making a dream come true Thursday night against the Boston Celtics in the United Center. He proved that he still has something left in the tank as a 34-year-old with quite a few miles on his odometer, leading the Bulls to a 105-99 victory with 22 points, six rebounds and five assists.
He did it in a way people who have been watching him play basketball for the past 14 years or so are unaccustomed to, by draining three-pointers.
Wade shot 4-for-6 from three point range, including a dagger with 31 seconds left to seal the victory.
.@DwyaneWade with the CLUTCH bucket! ??? https://t.co/1uSWCnRFgC

— NBA on TNT (@NBAonTNT) October 28, 2016
Dwyane Wade's ability to knock down threes consistently would do wonders for a talented Bulls team that doesn't seem to fit at all on paper with three talented ball handlers in Wade, Rondo and Butler who have never been known for long-range shooting.
This is a pretty incredible stat, Wade has lead the NBA in three-point percentage since the beginning of the 2016 playoffs.
Crazy Stat of Day: Dwyane Wade leads all NBA players in 3-pt FG% since start 2016 playoffs at 55.6% (15-27). pic.twitter.com/acMcMdLzW9

— SportsCenter (@SportsCenter) October 28, 2016
Where you at Chef Curry?
Any way you slice it, if Wade really did take the time to improve his three-point shot this off-season and add that to his repertoire, this could be a much better Bulls team than expected and Wade may be able to extend his career and high-level play for a few more seasons.
How can you tell that the NBA has changed considerably in the last few years? We are living in a world where Wade, DeMarcus Cousins, Zach Randolph and Marc Gasol are shooting and nailing three-pointers.