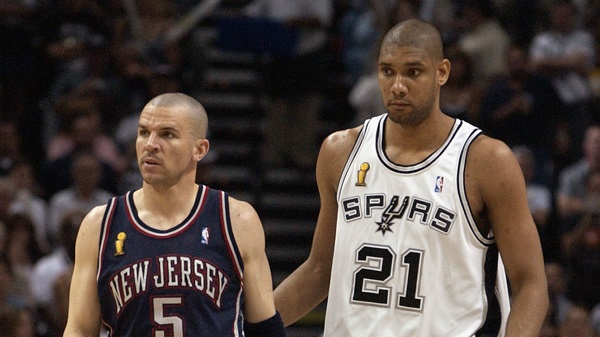 Let's go back 13 years, the Spurs had just one won their second NBA title in five years. Tim Duncan was entering his prime and was the best player in the world and the Spurs, despite winning the NBA title over the New Jersey Nets in the 2003 NBA Finals, were unsure if they could trust 21-year-old speedy point guard Tony Parker to be their long-term solution at point guard while their championship window (no one thought it would last 13 more years) was open.
The Spurs had the money and the desire that offseason to acquire quite possibly the NBA's best point guard in Jason Kidd that offseason in order to solidify themselves as a juggernaut and championship favorite going into the 2003-04 season.
Kidd flew to San Antonio and according to a story from ESPN.com Reporter Ohm Youngmisuk. Kidd was all but committed to the Spurs as he flew back home that offseason, relishing the opportunity to join the champions and spearhead another great dynasty in the NBA.
Here is an excerpt from the story:
"I thought I was going to be a Spur," Kidd, now the Milwaukee Bucks coach, said while watching his team during the Las Vegas Summer League on Monday. "I committed when I was down there on my visit [to San Antonio].

"On my flight home, I think I got cold feet," Kidd continued. "And sometimes I have nightmares about that. Maybe I could have won a championship or two there. But I got really lucky with Dallas and won a championship."
Kidd was convinced that becoming a Spur was the best decision for his career on the court but he wavered and knew his family wanted to stay in New Jersey:
"Yeah, there was turbulence on the airplane," Kidd cracked of what changed his mind. "I wanted to go to San Antonio, I told them I was coming. I had to tell them that I was changing my mind and staying with the Nets. It was a day later when I had to tell them but when I got back to Jersey, when I started thinking about the process, I felt a little more comfortable staying home."
The Spurs would win titles in 2005 and 2007 and Kidd wouldn't reach the NBA Finals again until 2011 when he won an NBA title as a role player with the Dallas Mavericks.
The thought of Kidd, Duncan and Ginobili together in San Antonio seems pretty incredible but what they ended up having with Duncan, Ginobili and Parker couldn't have turned out much better.
It's a what if that will always exist with Jason Kidd, but one that most likely doesn't keep Spurs fans up at night.