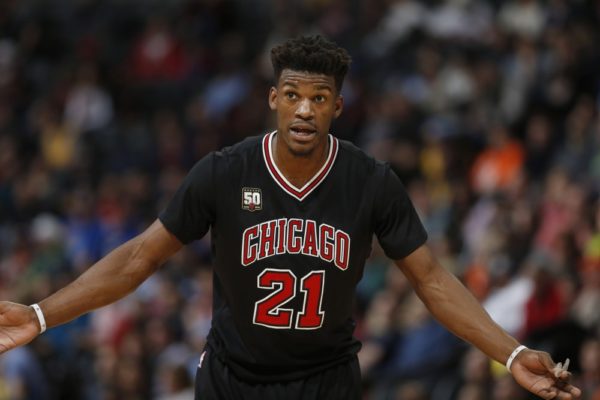 According to ESPN Reporter Zach Lowe, the Bulls have officially taken Jimmy Butler off the trade market and are no longer listening to offers from the Timberwolves and the Celtics.
The #Bulls have taken Jimmy Butler off of the trade market. Butler is no longer available. (Per @ZachLowe_NBA). pic.twitter.com/eU6mavDyeb

— Chicago Chronicle. (@TheChiChronicle) July 12, 2016
Butler seems to be an odd fit for the Bulls with their odd back court of Wade and Rondo. Their best three point shooter by the numbers is Rajon Rondo, yikes. There is less reason for the Bulls to deal Butler for a Kris Dunn package now as does moving him for a prospect in Jaylen Brown and another underwhelming shooter in Avery Bradley as part of a package, especially when you just paid Dwyane Wade $23.5 million a year and are in win now mode.
Here reportedly is what the T'Wolves tried to offer Chicago for Butler:
Source: The Timberwolves offered two trades to the Bulls for Jimmy Butler:
– Rubio and Lavine
– Rubio and Dunn pic.twitter.com/jiUhw2Z7dy

— NBA Reporters (@thenbareporters) July 12, 2016
The Bulls appear content with their current roster composition and for the time being at least have decided to keep the 26-year-old as a cornerstone for their franchise.