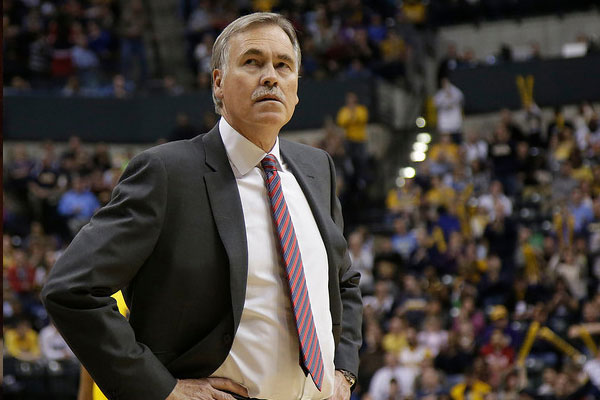 If new Houston Rockets head coach Mike D'Antoni has his way, he and James Harden will be best friends.
Alright, maybe not. But, should he get his way, they'll most definitely be making sweet basketball music together.
Houston's successor to Kevin McHale's (and J.B. Bickerstaff's) throne spoke briefly on how ecstatic he is to be working with one of the NBA's premier All-Stars, per Mark Berman of Fox 26:
Mike D'Antoni: "I'm excited. They have a great fan base. It's always fun to come to Houston & play. So I'm looking forward to it." #Rockets

— Mark Berman (@MarkBermanFox26) May 31, 2016
Mike D'Antoni on coaching @JHarden13: :"He's 1 of the biggest threats, period.Just a great player. So really looking forward to it" #Rockets

— Mark Berman (@MarkBermanFox26) May 31, 2016
In theory, Harden and D'Antoni should mesh well together. Magic Mike isn't the biggest fan of ball-stoppers (see: his relationship with Carmelo Anthony in New York), but Harden is an expert playmaker and has the shooting touch to work off the ball.
D'Antoni's biggest challenge, aside from getting Harden to play defense more consistently, will be turning the 2014-15 MVP runner-up into a pass-first playmaker. The Rockets don't have a real point guard on the roster as it stands—no one to fulfill role of Steve Nash from D'Antoni's days with the Phoenix Suns. Harden will need to be some semblance of that guy unless Houston goes out and gets one in free agency.
The Rockets will also want to beef up the stretch 4 position. They have a good pick-and-roll diver in Clint Capela, another necessity, but need to make decisions on the futures of restricted free agents Donatas Motiejunas and Terrence Jones, either of whom could fill that role. Both could even be stretch 5s. Even if the Rockets keep one or both of those guys, though, they'll still want to slot a more proven frontcourt shooter beside Harden.
Regardless of the role Mike D'Antoni has him play, he'll be driving and kicking with insane frequency. The Rockets need to make sure they open the paint for those rim assaults and surround him with enough accurate shooters to make defenses pay for converging on him.