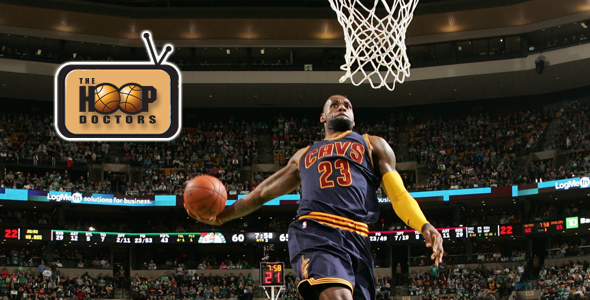 After watching LeBron James incredibly powerful and swift double pump reverse dunk in the lane Wednesday night it got me thinking about the top 10 dunks of his illustrious career, is last night's dunk in the top 10?
Being a 6'8″ 260 pound freight train of speed, power and athleticism has lent itself to some pretty incredible throw downs by King James.
Here are the top 10 dunks of LeBron's career…
10. Between the Legs in High School
@hoopshype I won't disagree, but LBJ in HS was #GodAmongMen level. Lebron's high school dunk between the legs https://t.co/KalB6k28Xi

— Daniel Aberle (@SingedPhoenix) September 25, 2015
9. Over Devin Harris to Send Game to OT
Lebron James Posterise Harris #poster #dunk #lebron #clutch #harris#cavs #onfire pic.twitter.com/HC1UTxMwMH

— ? Strax Jr 24 ? (@Sofianestrax77) January 13, 2016
8. Double Pump vs. Nuggets
LEBRON JAMES REVERSE DOUBLE PUMP DUNK ??? #CavsNation #Cavs #Nuggets #NBA https://t.co/0fk276upWH

— Cavs Nation (@CavsNationNet) December 30, 2015
7. LeBron over KG
LeBron James Dunk over Kevin Garnett #boss #insane http://t.co/okI9pAPR

— Storm (@TobuskusF) October 6, 2012
6. Legend over Legend
"@AcrossTheLeague: LeBron dunk over Tim Duncan http://t.co/bxS8jaBRnf"@JoshHartnett22

— King Dino (@D_Intrieri88) November 26, 2013
5. LeBron Posterizes Millsap
Lebron with the HUGE dunk over Paul Millsap! RT!!! ??? #HoopVine https://t.co/tMzBmyAglv

— Basketball Vines (@HoopVine) December 24, 2013
4. LeBron Oop over Terry
#ThrowbackWednesday LeBron James monster alley-oop dunk on Jason Terry RT @BattlesNBA: https://t.co/woLsQh2Qny

— ThatNBALotteryPick (@ThatNBAPick) December 30, 2015
3. Double Pump vs. Milwaukee
LeBron James with the insane Dunk! #Cavs! https://t.co/f9pNZ91fDa

— LeBron James ? (@LeBronJames) March 24, 2016
2. LeBron Clears Lucas
Oh me, oh my. LeBron jumps over John Lucas for the alley oop!! pic.twitter.com/XUZayb412y

— FanJam (@FanJam) August 2, 2015
1. LeBron Devours Damon Jones's Soul
Lebron James on Damon Jones- Until this day this is the greatest dunk on someone I've ever seen. http://t.co/0pjPlyZVej

— MR.E The Uncommon 1 (@BEmejuru) March 11, 2013
There you have it, the top 10 dunks of LeBron James's career, it will forever be a travesty that he never agreed to participate in the dunk contest.