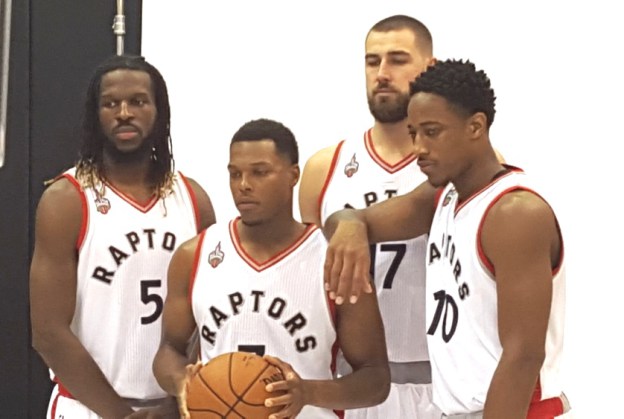 There isn't much good news coming out of Toronto on the injury front.
According to Toronto Sun Beat Writer Ryan Wolstat, there is legitimate concern about Kyle Lowry's elbow. An injury he initially suffered in London against the Magic back in January and re-aggravated it against the Magic on March 20. It has been affecting his shooting on some nights and was painful during the Raptors loss to the Thunder Monday night which caused Lowry to get the elbow drained Tuesday morning.
Apparently the elbow injury is one of those Lowry will have to just deal with for the time being, as minor rest won't help him recover.
The even bigger issue though is the faltering hopes that the Raptors will have DeMarre Carroll back for their postseason run, Carroll is recovering from knee surgery he underwent in January.
According to the article, Carroll was looking great in practice a few weeks ago but has since left the team for a short time because of a family issue. It seems he has suffered some sort of setback in his recovery, although the organization has not publicized it.
The feeling now, according to Wolstat, is that Carroll could only return this season if the Raptors make a deep postseason run which is very possible.
Getting Carroll back for a potential conference finals matchup with Cleveland would be vital for Toronto to have a real chance to displace King James from the eastern conference throne, but an out of shape, rusty version of Carroll may not have the sort of effect Toronto would need.
It will be interesting to monitor how these situations evolve over the next few weeks, but the Raptors will need an effective Lowry at the very least in order to make it to the second round of the postseason for the first time since 2001.