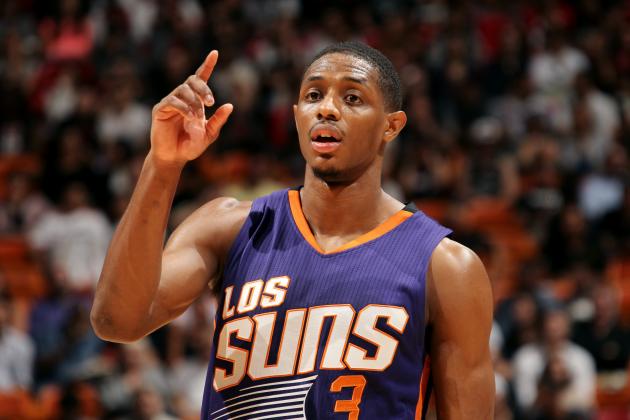 It is clear that the Utah Jazz are in postseason mode and are going to be looking for a starting caliber point guard during the trade market.
It's been reported that they have an interest in Atlanta Hawks point guard Jeff Teague.
Jeff Teague in trade talks with Knicks, Bucks, and Jazz. Imagine him as a Knick ? https://t.co/YBNIgq4AOX

— NBALEAD (@NBALEAD) January 28, 2016
Teague would admittedly be a great option for the Jazz but because of the high level of interest in Teague from other teams such as the Knicks and Bucks, the Jazz would likely have to give up a first round pick and some of their young talent like a Dante Exum or Rodney Hood in order to get him.
The Suns meanwhile are clearly (or should be anyway) in full on tank mode and host a fire sale for anybody they can deal on the roster except for Devin Booker, Eric Bledsoe and potentially Alex Len or T.J. Warren.
The Suns need to finally face the fact that the two point guard system is not going to be a fruitful strategy on either end and need to revert back to a more traditional back court pairing.
This means that after finally ridding themselves of Markeiff Morris, the Suns need to trade Brandon Knight. He is a talented 24-year-old combo guard who can give you 18 and 5 a night therefore he should be valuable to a team like the Jazz who are flush with young talent everywhere except for the point guard position. It seems Exum can't stay healthy long enough to develop and Trey Burke has been a disappointment.
The Suns need to embrace a Bledsoe and Booker back court pairing and the Jazz is the perfect landing spot for Knight. Knight is a player who would fit their current style, improve their three point shooting and help them make the postseason.
So, who should the Jazz deal for Knight in our hypothetical trade?
The clear answer is Alec Burks.
A straight up trade for these two would work money wise as the Jazz have room under the cap to take on the extra $4 million in salary:

I would assume the Suns would be willing to throw in Archie Goodwin or T.J. Warren as well, if they can get a 1st round pick in the next few years or a player like Trey Lyles in return.
Burks is very talented and athletic and could work well in the free flowing system the Suns want to run. It also seems as though the Jazz have soured on Burks a bit with his recent injury issues. At this point Burks is an inefficient offensive player barely shooting 40%. He is also a minus defender at this point in his career with a -2.2 defensive plus/minus.
This seems to be a trade that makes sense for both teams and the direction they want or should be heading this season. These GM's should come together to make it happen.
With the NBA trade season around the corner it will be interesting to see where many players end up.