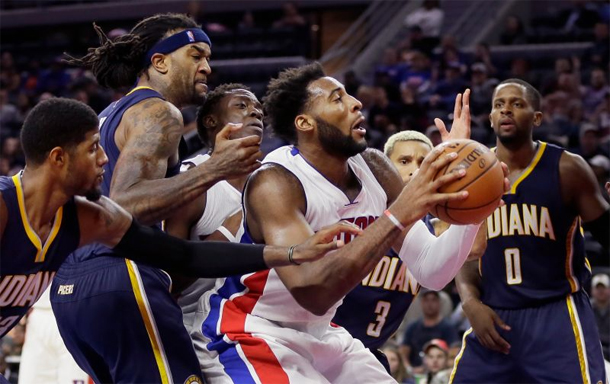 When previewing the 2015-16 NBA season, all of us basketball fans had a terrific handle on what to expect from the Eastern Conference. Nine teams were reasonable playoff contenders and anyone else would be a stretch.
Seven games into the campaign, Andre Drummond and the Detroit Pistons have demanded a place in the discussion. It's wise to buy some stock in Stan Van Gundy's team.
Detroit knocked off the Atlanta Hawks—who haven't lost since then—to open the season, then edged the Utah Jazz and Chicago Bulls at home. After falling to the Indiana Pacers despite a stunning 25-point, 29-rebound performance from Drummond, the Pistons handled the Phoenix Suns and Portland Trail Blazers.
Although the defending-champion Golden State Warriors continued their dominance and handled Detroit, the 5-2 record for the team from Auburn Hills cannot be ignored.
The Pistons look like a playoff team, and it's not simply because of the encouraging start. Andre Drummond, their standout center, has taken a massive leap in his development.
At this moment, he's averaging 19.4 points and 19.6 rebounds. With some beast mode double doubles. But Drummond's progression goes well beyond absurd numbers. He's improving as a true low-post threat.
Andre Drummond beasting in Portland https://t.co/Tb7mXjfeHO

— The Cauldron (@TheCauldron) November 9, 2015
Drummond has established himself enough to draw defenses and create space for point guard Reggie Jackson. Mike Prada of SB Nation posted an excellent breakdown of the Drummond-Jackson pick-and-roll.
Additionally, per NBA.com, Detroit boasts a 96.7 defensive rating, which is a top-10 mark in the league. The Pistons are a formidable yet not dominant offensive unit, so defense will be the roster's calling card at least until Brandon Jennings returns from an Achilles injury.
In addition to Drummond's rim-protection and dominant rebounding, Jackson, Kentavious Caldwell-Pope and rookie swingman Stanley Johnson are tough on the perimeter. Points won't come easy against Detroit.
Now, this isn't to say the Pistons are suddenly a title contender because of an eye-opening beginning to 2015-16. The roster lacks the firepower to survive the Eastern Conference.
But on paper, there's absolutely enough in the arsenal to reach the postseason. Drummond's improvement is the key to that statement, because he's proved we underestimated the 22-year-old. We knew he had superstar potential but didn't expect that transition to happen yet. It's clear he's started to hit the next level.
As long as Drummond is healthy, Detroit is a low-seed playoff contender. If Jackson and Jennings can co-exist in the backcourt while Drummond dominates up front, the Pistons bandwagon grow even larger.
All aboard.