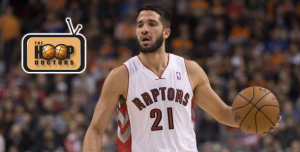 This morning The Hoop Doctors' David Kenyon had an opportunity to chat with Greivis Vasquez in advance of his upcoming Under Armour player edition shoe launch, 'The North Six', this weekend (audio after the jump). The conversation began with a focus on the launch, but once the discussion moved to basketball related issues, Greivis was quick to defend against the Raptors latest struggles, calling out too much focus on analytics and suggesting the team just needs to work harder and better together.
Vasquez is obviously a great teammate as he was very quick to defend the Raptors depth, calling the bench out as an important factor in the Raptors success. He also sung the praises of the team's franchise guys in DeRozan, Valanciunas, and Lowry. When asked about playing against point guards like Wall or Rose in the East, he was quick to note that the Raptors have their own all-star point guard in Kyle Lowry.
Key takeaway: with guys like Vasquez in the lockerroom, there isn't much risk of team chemistry being at risk deflating. And let's be honest, the Raptors success was highly tied to chemistry, communication and ball movement. Playing the right way.
It won't be long before the Raptors are back on top.
Please enable Javascript to watch this video