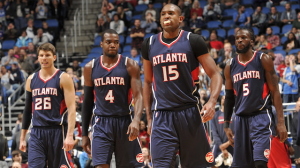 The Atlanta Hawks must've entered Monday night's bout against the Sacramento Kings with something to prove.
Mike Budenholzer elected to rest a few starters in the Hawks' previous game, which turned into a surprising-though-not-shocking 92-84 loss at the hands of the Philadelphia 76ers.
"A lot of our guys got to learn and grow," Budenholzer said following the outing, per ESPN. "It wasn't our best night, but sometimes you learn from those as much as your good nights."
And man, did Atlanta ever learn quickly.
The Hawks destroyed Sacramento 130-105, receiving 20-point showings from Kyle Korver and DeMarre Carroll, 18-point performances from Jeff Teague and Al Horford while Paul Millsap and Dennis Schroder added 13 and 12, respectively.
Atlanta became the 168th team to score 130 points during a regulation win since the year 2000, according to Basketball-Reference.com. An exclusive club, that is not.
However, the efficiency Budenholzer's crew displayed was nothing short of sensational.
.@ATLHawks hit a franchise-record 20 three-pointers in tonight's victory! https://t.co/YZSqlmw5Nv

— NBA TV (@NBATV) March 10, 2015
As seen above, the Hawks buried a franchise-record 20 triples. Just 13 squads—all since 2005—had ever reached that mark in a regulation contest.
What's more, among those 14 teams, Atlanta's 42 total assists was the highest total. Budenholzer has clearly brought his San Antonio Spurs roots to Philips Arena, giving his roster a ball-movement oriented focus. Only the Portland Trail Blazers had eclipsed the 40-assist, 20-triple barrier, toppling the 76ers in December of 2013 with 139 points, 41 dimes and 21 three-pointers.
But the Hawks' overall performance is what will remain most impressive.
As a collective unit, Atlanta finished the blowout victory shooting 60.2 percent from the field with 53 made buckets, 55.6 percent beyond the arc with 20 threes, 42 assists and 13 turnovers.
The list of teams who have ever tallied at least 60 percent overall, 50-plus field goals, at least 55 percent from deep and 40-plus assists is small. According to Basketball-Reference.com, that number is a mere 20.
Magic Johnson's 1986-87 Los Angeles Lakers matched the requirements, as did Larry Bird's 1987-88 Boston Celtics and Michael Jordan's 1990-91 Chicago Bulls. The most recent franchises to accomplish the feat were the 2007-08 Detroit Pistons and 1999-2000 Milwaukee Bucks.
Additionally, the list of teams who have ever tallied 60 percent overall, 50-plus baskets, 55 percent from deep, 40-plus assists and 15 or fewer turnovers is unsurprisingly smaller—down to 11.
The same Magic-led and Bird-carried rosters achieved those numbers twice. Even Steve Kerr's 1991-92 Cleveland Cavaliers and Dominique Wilkins' 1992-93 Hawks made appearances.
But the list of teams who have ever tallied 60 percent overall, 50-plus baskets, 55 percent from deep, 20-plus threes, 40-plus assists and 15 or fewer turnovers shrinks further.
Atlanta holds that honor by itself. The Hawks' showing on Monday night was the single-most efficient all-around outburst in NBA history.
An exclusive club, that certainly is.
Unless otherwise noted, stats are courtesy of Basketball-Reference.com and are accurate as of March 9.
In addition to his work for The Hoop Doctors, David Kenyon contributes to Bleacher Report and Sportsnaut. You can follow him on Twitter: @Kenyon19_BR.