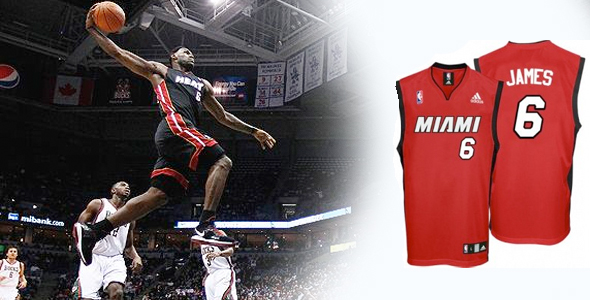 April 14, 2011 – Kevin Burke
Ok, I'm officially confused. Seriously. I thought LeBron James was supposed to be the most hated guy in the league. I thought his departure from Cleveland was so reprehensible that his image would never recover. I thought he wasn't as marketable anymore. After all, he accepted the villain role that everyone already tabbed him with. If all of those things are true, how is it possible that his #6 Miami Heat jersey was the highest selling player jersey in the league this year?
LeBron passed Kobe Bryant for the number one selling jersey in the entire NBA. Kobe's #24 jersey had been tops in the Association since the beginning of the 2009 – 2010 season and this marks the first time that LeBron's jersey has been number one in sales since his rookie season. Now, that makes sense since he was the most hyped rookie that any sport has ever seen. But this is completely void of any logic.
Naturally, when a player switches teams, there is a higher potential for his jersey sales to increase because it's new merchandise that consumers have never had the opportunity to own. But that theory shouldn't apply here. Not with this guy. If I still wore jerseys, I would've gladly worn a James jersey this year. The hate that he received since making his decision was completely overblown and unnecessary in my opinion, and that actually made me like the guy more. I thought I was alone in that boat. Apparently not. So while his #23 Cavaliers jerseys were foolishly being burned in Cleveland, and selflessly being given to Miami's homeless, his brand new duds were flying off the racks. Who knew?
Here are the top 15 selling jerseys from this past season:
1. LeBron James
2. Kobe Bryant
3. Rajon Rondo
4. Amar'e Stoudemire
5. Derrick Rose
6. Dwyane Wade
7. Kevin Durant
8. Carmelo Anthony
9. Dwight Howard
10. John Wall
11. Blake Griffin
12. Shaquille O'Neal
13. Ray Allen
14. Paul Pierce
15. Kevin Garnett

I guess wearing of jerseys is very much in style in Boston.
If you're looking for your everyday, predictable basketball talk, then go somewhere else, because Kevin Burke of The Kevin Burke Project brings provocative, thought provoking content about basketball as only he can. Kevin also hosts The Hoop Doctors weekly podcast show, which you can subscribe to for free on iTunes. Follow Kevin on Twitter and Facebook