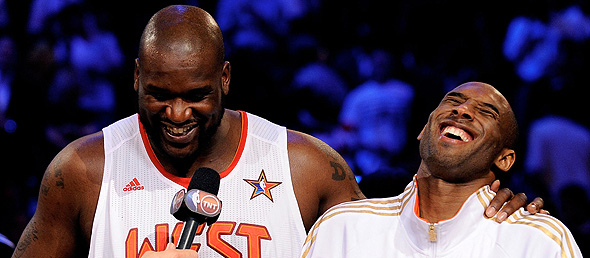 April 8, 2011 – R.S. De France
While their Lakers' era ended in turmoil, Kobe Bryant and Shaquille O'Neal were fatefully paired up again in the 2009 All-star Game in Phoenix, Arizona, where they shared MVP honors for the Western Conference. Now, with the Lakers and Celtics on a possible Finals-collision course, the NBA and its fans may finally get what we have been waiting for, a Kobe Bryant v. Shaquille O'Neal NBA Finals.
If this finals rematch occurs again, both Bryant and O'Neal will make history in this year's playoffs. While the Kendrick Perkins' trade may have made the Boston Celtics more vulnerable to a team like the Chicago Bulls, the following is based on both the Lakers and Celtics making it back to the Finals[1].
Although this is Shaquille O'Neal at 39, not 29, if he can stay healthy and play most playoff games, O'Neal can change four all-time playoff records in these playoffs.
O'Neal can tie Kareem Abdul-Jabbar for 2nd in playoff games with 237 (O'Neal has 214).
If Rajon Rondo continues to hook O'Neal up with some nice lob passes as he did earlier in the season, Shaq will fall just short of passing Michael Jordan's (2nd all-time) mark of 2,188 playoff field goals, still leaving O'Neal a thousand or so field goals short of catching Jabbar.
O'Neal has one shot to overtake a number one all-time playoff record. If Shaq (459 blocks) can record eighteen blocks during these playoffs, he will overtake Jabbar who currently holds the top spot with 476 blocks.
And, although it's a dubious honor, if O'Neal averages about two personal fouls a game in these playoffs (for about fifteen games), he will own the all-time mark for most playoff fouls, currently held by Jabbar with 797.
On the other hand, there is no way that Shaquille O'Neal can catch either Bill Russell (1st) or Wilt Chamberlain (2nd) in playoff rebounds. In fact, Shaq (2,508) is not even close to Russell and Wilt—who each have about 4,000 rebounds. At this point in his career, O'Neal might as well forget about trying to catch them. Likewise, O'Neal does not score enough, at this stage of his career, to climb any higher on the all-time playoff-scoring list. Shaq would need to maintain about his current level of scoring for three playoff runs, including this one, in order for Shaq to approach Michael Jordan's all-time mark of 5,987 playoff points.
But, O'Neal's former teammate Kobe Bryant will likely pass Shaquille O'Neal, during this year's playoffs, as the 3rd all-time playoff scorer in NBA history. And, that's not all. If Bryant maintains his current level of production through this year and next year's playoffs, Kobe Bryant should become the all-time leader in playoff points, passing Shaq, Jabbar, and Jordan in the process.
Similarly, given Bryant's playoff field goals in the last three playoffs, it is likely that Bryant (1,799) will also pass Shaquille O'Neal in playoff field goals, moving Kobe into 3rd and Shaq into 4th, but that will probably not happen until next year's playoffs. And with two more playoff runs at this level of production, including this year's playoffs, Bryant could come extremely close to surpassing Jabbar as the all-time leader in playoff field goals.
When it comes to playoff games, it looks like Shaq either needs to retire or his team needs to be knocked out much earlier than the Lakers, in order for Bryant to pass O'Neal in playoff games played. Currently, Shaq (214) holds a sixteen game advantage on Bryant (198), but another Lakers' playoff run after Shaq retires could allow Bryant to coax away yet another playoff record from O'Neal. Still, though, Bryant would be a game behind his teammate Derek Fisher.
Two more areas where Bryant looks to make his mark are steals and assists. If Kobe (955 assists) gets his normal amount of playoff assists, he should move up from 11th to 5th in all-time playoff assists, passing Jordan, Pippen, Nash, and Lakers legend Jerry West. In fact, Bryant would almost be tied with Larry Bird for 4th. During these playoffs, Bryant (278 steals) looks to move from 7th to 5th in playoff steals, and if he has another solid playoffs next year, Bryant will likely pass John Stockton for 4th all-time in playoff steals.
Bryant is also on the verge on setting another impressive mark: the record for all-time playoff three-point shots made. This record, currently held by Reggie Miller (320), is in series jeopardy. During these playoffs alone, Bryant will likely make about 40 three-point goals, putting Kobe at 303. So, the odds are that Bryant will surpass Reggie Miller in next year's playoffs and officially become the number one three-point shot maker in NBA playoffs history. But, Chauncey Billups (259) and Ray Allen (253), both on current playoff teams (Knicks and Celtics, respectively) are not too far behind.
In a very real sense, though, Bryant and O'Neal are competing against each other for one more record.
If the Boston Celtics and Shaquille O'Neal can win the NBA title, Shaq will tie his former teammates Bryant and Fisher with five NBA titles. However, should the Lakers win the title, Fisher and Kobe will complete their 2nd three-peat, joining Jabbar, Bob Cousy, Jordan, Scottie Pippen, and Jim Loscutoff as the only NBA players with six championships.
---
[1] These estimates are based on Kobe Bryant's playoff production between 2008 and 2011. For O'Neal, the estimates are based on his playoff numbers with the Cavs (2011). These seem most representative of what each player should accomplish during this year's playoffs.
Rob S. De France is a College and University instructor of English Composition living in Los Angeles. He has a B.A. in English and an M.A. in Rhetoric, Composition, and Writing. De France has played, coached, and officiated competitive high school basketball in California for many years. Recently, De France, his wife, and another colleague started an internationally read magazine at Shwibly.com.