February 2, 2011 – Kevin Burke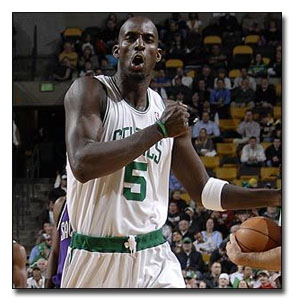 In September of 2009, Bruce Bowen retired from the NBA after he was released by the Bucks. Among Bowen's many accomplishments during his 12-year career include 3 championship rings with the Spurs, as well as being named to the All-NBA first or second defensive team 8 times. Those are certainly achievements to be proud of, but his biggest career accomplishment has to be the fact that he was never punched in the face because he was unequivocally the dirtiest player in the history of the NBA, and quite possibly all of sports.
To list all of Bowen's dirty tactics would make this the longest article in the history of sports writing. Rather, I'll just point out my two favorite ones: 1 – sliding his foot underneath a jumpshooter when they were in the air to ensure that they will roll their ankle on his foot upon when the land, and 2 – stepping on the heel of a player who is about to jump for a rebound, so that they will not get up as high. I'm not advocating violence, but again, I'm surprised he was never punched in the face – repeatedly. The line between dirty player and solid defender became blurred because of Bowen's play.
When he retired, the NBA became a safer place. But then something happened over the weekend that made me question that claim, in a play involving Kevin Garnett and Channing Frye.
It's funny how a new environment can change people. Kevin Garnett is the poster child for that. When he was still in Minnesota struggling to get out of the first round of the playoffs, he was something of a sympathetic figure around the league. There was a sense of compassion for him because he always left everything on the floor and didn't have much to show for it.
Then, he was traded to Boston a few years ago, they won a championship and everything changed just like that. KG slowly lost that compassion that the masses felt towards him. He was always an intense player from day one, but has slowly earned the reputation of being something of a bully. Being in a winning environment has apparently brought on new confidence in Garnett because he seems like a different player. The Charlie Villanueva incident is an example, but none bigger than what he did to Channing Frye. It doesn't really portray him as a bully, but more so as a dirty player. It was very Bruce Bowen-esque.
In the video clip below, Garnett is defending Frye when Channing goes up for a shot. Not only does KG slide his foot underneath the air born jumpshooter, but he also taps Frye in the groin. I was very disappointed to see the replay, where it definitely looks intentional. The kicker is how he acts afterwards as if he has no idea why Frye is upset. Come on, KG. You're better than that. Aren't you?
If you're looking for your everyday, predictable basketball talk, then go somewhere else, because Kevin Burke of The Kevin Burke Project brings provocative, thought provoking content about basketball as only he can. Kevin also hosts The Hoop Doctors weekly podcast show, which you can subscribe to for free on iTunes. Follow Kevin on Twitter and Facebook