December 17, 2010 – THD Rumor Patrol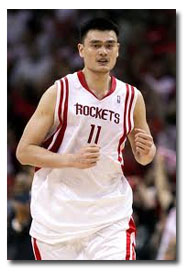 Yao Ming has been saying for days that he is ready to return to the court and feels a lot stronger but has been sidelined by the Houston Rockets' team doctors. Well today it was announced by the Rockets that Yao Ming has a stress fracture in his left ankle that will likely require surgery. The recovery is lengthy so this means Yao Ming will be out for the remainder of the season.
The Rockets announced the decision Friday, a day after the injury was found in an MRI exam. Team physician Walter Lowe says surgery is the usual treatment for such an injury, which has sidelined him since Nov. 10.
Yao is still consulting with doctors to determine how he will proceed. If he chooses surgery, it would take seven and 10 months for him to return to the court.
The seven-time All-Star sat out last season after surgery to repair his broken left foot. Rockets' general manager Daryl Morey says he is hopeful that Yao will recover and play for the Rockets in the future.
This is a big blow for Houston Rockets fans, and the statements by team officials sound less than certain about whether or not Yao Ming will ever suit up for the Rockets again. Before the season began, Yao Ming had made comments about a possible retirement if he couldn't get back this season to logging significant minutes. Many analysts wrote it off to Yao just trying to be assertive with the team who has held him back from playing before they felt he was 100% ready from his foot injury recovery.
With that said, there is still the outside chance that Yao Ming may consider retirement while staring down the possibility of another year long grueling rehab and recovery period from this latest injury requiring surgery.
We will just have to wait and see how the big fella responds.
Read more details via AP on NBA.com