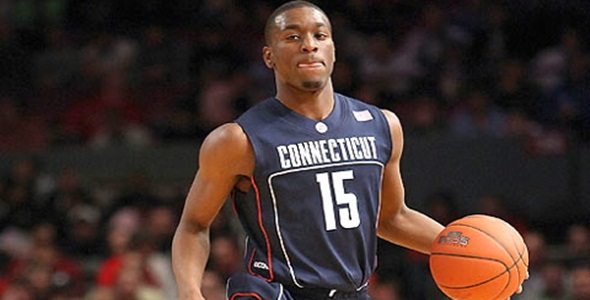 December 1, 2010 – Allen Moll
As the first month of the NCAA basketball season draws to a close, we were treated to a number of surprisingly tremendous individual performances from the likes of UConn's Kemba Walker, Kentucky's Terrence Jones, and Ohio State's Jared Sullinger. In addition, a number of teams have gotten off to tremendous starts behind some of the college ranks' best players like Pittsburgh's Ashton Gibbs and Michigan State's Kalin Lucas.
Last season, Kentucky's John Wall and Ohio State's Evan Turner battled for the top spot in the race for NCAA Player of the Year, eventually won by Turner. This season, the race is much more wide open as there is no clear pre-season favorite for the award. Look for our monthly player rankings to fluctuate as players' fates are directly influenced by how well their team plays.
In my mind, there's currently only one player that belongs in the #1 spot, with the rest up for grabs. Which player in the country is playing better than the 5'8 point guard from Connecticut? With that in mind, here are our initial NCAA POY Rankings for the 2010-2011 season, beginning with the month of December:
1) Kemba Walker, UConn

30 ppg, 4.2 reb, 3.6 ast, 2.2 stl, .527 FG%, .406 3PT%
Team Record: 5-0
No one has had a better start to the season than the NYC native, who set a Husky record by scoring 29 points in a half against Wichita State. Kemba ranks #1 in the nation in scoring and has the surprising Huskies still perfect after beating two Top 10 teams(Michigan St and Kentucky) to win the Maui Invitational. Walker was once a highly touted HS recruit but has been widely inconsistent in his first 2 seasons(8.9 and 14.6 ppg) in the college ranks. UConn has gotten help from sophomore Alex Oriachi(13.4 ppg and 12 rebs) but with the rest of the roster mostly made up of underclassmen, how coach Calhoun's team fares the rest of the season is directly tied to Walker's performance. Is any one player more important to their team than Kemba?
2) Terrence Jones, Kentucky

21.2 ppg, 10.2 reb, 2.2 ast, 1.6 blk, 1.6 stl, .500 FG%, .462 3PT%
Team Record: 4-1
Jones surprisingly has emerged as the best player among Kentucky's fabulous crop of freshmen, if not in the entire nation. He has been even better than advertised, as he has shown the ability to do virtually everything from scoring, rebounding, blocking shots, shooting the 3, and even ball-handling. At 6'9 and 240 lbs, Jones is the perfect example of the new hybrid power forward that causes nightmare match-up problems for opposing teams and is more comfortable on the wing. With PG Brandon Knight struggling a bit to adapt to the college game(2.8 ast to 4.6 TO), coach Cal would be wise to get the ball in Jones' hands as often as possible until the rest of the young Wildcat roster gets up to speed. Watch as Terrence is shooting up everyone's draft boards.
3) Jimmer Fredette, BYU

24.8 ppg, 4.8 ast, 2.3 reb, 2.3 stl, .495 FG%, .391 3PT%, .863 FT%
Team Record: 6-0
Many questioned Jimmer's decision to pull out of last season's NBA Draft but he had a tremendous start to this season, keeping the Cougars perfect(6-0) while ranking among the nation's leaders in scoring and free throw percentage. He has scored 20 or more points in 5 of 6 games and nailed 5 or more treys twice. Jimmer appears to have honed his other skills this off-season in addition to scoring the rock as he is averaging nearly 5 assists in addition to 2+ steals per contest. He also is one of the nation's best shooters, so look for his sub .400 3 PT% to rise as the season moves on. Jimmer is without a doubt the most potent player out West as he is key for the Cougars to hold off New Mexico and San Diego State in the Mountain West Conference.
4) Nolan Smith, Duke

16.8 ppg, 5.7 ast, 5.2 reb, 1 stl, ,533 FG%
Team Record: 6-0
Although Kyle Singler is the nation's pre-season POY, senior guard Nolan Smith has been Duke's best overall player in the early season. He currently is the Blue Devils' leading scorer, while ranking as one of only a handful of players in the nation to average double figures in scoring in addition to 5+ rebounds and 5+ assists per game. While Singler's numbers are almost certain to go up, Smith is the steadying influence on a deep squad attempting to win back-to-back NCAA crowns. Having the star-studded freshman Kyrie Irving(14.5 ppg, 5.8 ast, 1,5 stl) as a back-court mate certainly has to make things easier for Smith, who looks to be enjoying the role of mentor to the multi-talented freshman. Can the Blue Devils run the table?
5) Ashton Gibbs, Pittsburgh

18.1 ppg, 3.6 ast, 3 reb, .449 3 PT%, .840 FT%
Team Record: 7-0
As the unquestioned leader of coach Jaime Dixon's deepest squad in years, Ashton has led the Panthers to an unblemished record and Top 5 national ranking. Gibbs leads Pitt in scoring, FT percentage, and three point shooting, nailing an average of 3 treys per contest. Although he has gotten a tremendous amount of help from back-court mate Brad Wanamaker(14.3 ppg, 5.6 ast, 5.4 reb), Gibbs is the lynch-pin of a talented squad that is the early favorite over Villanova and Syracuse to win the Big East Conference. Gibbs scored 19 second half points in being named the MVP of the 2K Sports Classic as he helped Pitt defeat Texas for the Tourney crown.
6) Marcus Morris, Kansas

19 ppg, 6.3 reb, .667 FG%, .615 3 PT%
Team Record: 6-0
As one of the nation's more versatile players, Marcus has become the go-to-guy for the unblemished Jayhawks this season. While the team waits out the 9 game suspension of prized #1 HS recruit Josh Selby, the Jayhawks have leaned heavily on both Morris twins for offensive and defensive production. While brother Markieff leads the team in rebounds(9.5), Marcus is the unquestioned offensive force showing the ability to score from anywhere on the court. At 6'8 and 230 lbs, he is among the nation's leaders in FG% and 3 point shooting while upping his scoring average more than 7+ ppg from last season. Marcus has more than answered the questions as to where Kansas' offensive output would come from with 3 players (Aldrich, Henry, and Collins) departed from last season's NCAA Tourney team.
7) Jordan Hamilton, Texas

22.7 ppg, 7.2 reb, .495 FG%, .472 3 PT%
Team Record: 5-1
The early development of sophomore Jordan Hamilton into one of the nation's top scorers in the early going has been a godsend to coach Barnes' program after losing 3 players to the NBA after last season. Hamilton, who never saw a shot he didn't like, has willingly shouldered the scoring load for the 5-1 Longhorns, whose only loss came at the hands of Pitt in the 2K Classic finale. Texas has also gotten help from a pair of freshmen in Tristian Thompson(12.2 ppg, 6.8 reb, 2.5 blk) and Corey Joseph(8 ppg, 3.5 reb, 3.2 ast) in addition to senior Gary Johnson(11.7 ppg, 7.5 reb) but Hamilton's maturity into a go-to-guy has the Longhorns back among the Top 25 teams in the nation.
8 ) Tu Holloway, Xavier

25 ppg, 4.7 reb, 4.3 ast, 1.3 stl, .500 FG%, .838 FT%
Team Record: 5-1
In what could possibly be a down year for the Musketeers, the junior point man has taken the reigns of the program by leading the A-10 Conference in scoring, even ranking in the Top 10 in the nation. He has shown an amazing knack for getting to the foul line, making an average of 12 trips to the charity stripe per contest, to go along with 4+ rebounds and 4+assists per game. Xavier's lone loss was to Colonial League powerhouse Old Dominion in the finals of the Paradise Jam Tourney and will be truly tested with upcoming games against Top 25 ranked Gonzaga and Florida this month.
9) Steven Gray, Gonzaga

22.4 ppg, 5.6 ast, 5.4 reb, 3 stl, .500 FG%, .395 3 PT%
Team Record: 3-2
While the Zags have stumbled early, losing to Top 25 ranked Kansas State and San Diego State, it surely isn't Gray's fault, as he is one of a handful of players in the country to also average 14 ppg, 5+ rebounds, and 5+ assists. Gray, along with super soph Elias Harris(9.2 ppg, 4.2 reb) look to replace the graduated Matt Bouldin's production from last season. Steven has already notched a 35 point effort in a loss to the the Aztecs and has nailed 5 or more threes in a game on two occasions. Gray should be a fixture on our rankings all season as the Zags attempt to win the West Coast Conference for the 11th straight season.
10) Blake Hoffarber, Minnesota
15 ppg, 4.8 ast, 3.3 reb, 1.5 stl, .373 3 PT%, .917 FT%
Team Record: 7-1
While statistics alone don't tell the whole story, Blake has been one of the best players, along with the 6'8 and 240 lb Trevor Mbakwe, by the numbers on the suddenly very good Golden Gophers who pulled out a surprising win in the Puerto Rico Tip-off Tourney. With so many focused on the mother-lode of talent at the top of the Big Ten Conference in Ohio St, Michigan St, and Purdue, Tubby Smith's group just might make it a 4 team race for the conference crown. Minnesota has gotten help from Mbakwe(13.7 ppg, 9 reb) and Ralph Sampson III(13 ppg, 6.8 reb, 2,7 blk) down low but Hoffarber has been tremendous from the perimeter, making more than 3 treys per contest and ranking in the Top 10 in the nation in free throw percentage. With fellow senior Al Nolen(9.2 ppg, 4.2 ast, 2.8 stl) now out for an extended time with a severe ankle injury, look for coach Smith to rely even more heavily on Blake as the Gophers inch closer towards Big 10 play.
Next 5:
Kawhi Leonard, San Diego State(18 ppg, 10.5 reb, 2.5 ast, 1.5 stl)
Derrick Williams, Arizona(21 ppg, 7.3 reb, 1 stl, 1 blk, .645 FG%, .778 3 PT%)
Kalin Lucas, Michigan State(18 ppg, 3.6 ast, 1.2 stl, .492 FG%, .450 3PT%)
Austin Freeman, Georgetown(20.2 ppg, 2.3 ast, 2.3 reb, .597 FG%, .576 3 PT%)
Jared Sullinger, Ohio State(15.2 ppg, 8.6 reb, 1.4 stl, .620 FG%)
Allen Moll has been a lifelong NBA and NCAA College Basketball fan who watches and studies games religiously, and coaches youth basketball in his native Lehigh Valley region of Pennsylvania.  Allen also provides content to Bleacherreport.com, Upperdeckblog.com, in addition to being a tenured NBA and NCAA columnist for TheHoopDoctors.com.