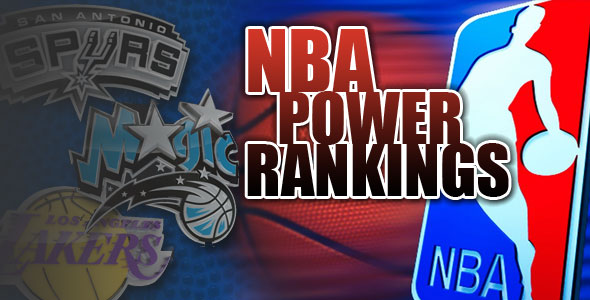 NBA Power Rankings
| | |
| --- | --- |
| 1 | |

San Antonio Spurs

I have constantly criticized this squad for their age, and inability to play an 82 game season, but right now there is just not a more complete team than the Spurs.  They are playing flawlessly on the road, and their dominance in the backcourt is getting ridiculous.  Also, Tim Duncan is dropping triple-doubles, Richard Jefferson can't miss from outside, and the Tiago Splitter experiment is working.

| | |
| --- | --- |
| 2 | |

Dallas Mavericks

The Mavericks have been getting a huge spark from their bench, and it has gone a long way to keep the Dallas starters fresh heading into the fourth quarter of close games.  Each game in their current six-game winning streak has been decided by 11 points or less, that kind of closing power is a trademark of the best Dirk-led Mavericks squads.

| | |
| --- | --- |
| 3 | |

Utah Jazz

The Jazz continue to battle back from deficits, and I can't tell whether that is something that represents a commendable resiliency or a performance deficiency.  As long as the Jazz continue to pick up the wins, it won't matter how they do it.

| | |
| --- | --- |
| 4 | |

Boston Celtics

I am not as concerned about Delonte West's injury as many.  Before Delonte joined the Boston lineup they looked like the best team in the Eastern Conference, and with him out they still look that way.  Boston could use him to keep from overworking Rondo, but nothing seems to be slowing one of the game's best point guards these days.

| | |
| --- | --- |
| 5 | |

Orlando Magic

Orlando has benefited from a particularly cushy schedule in the last two weeks, so it will be interesting to see if they can replicate the same defensive dominance against better teams.  Right now they look like a terrifying team to face in a 7-game series, but lots of teams look that way against the Pistons.

| | |
| --- | --- |
| 6 | |

Los Angeles Lakers

Tuesdays dagger put the Lakers on their second three game losing streak since acquiring Pau Gasol in February 2008, but I would not expect that to last for much longer.  The next week should lead to four wins for the Lakers, and they will be back on track to face Chicago next Friday.

| | |
| --- | --- |
| 7 | |

Oklahoma City Thunder

The development of Russell Westbrook has come full circle into creating one of the most dangerous duos in the NBA at this moment.  With Westbrook and Durant you have two players with an uncanny ability to get to the rim and finish, particularly in crunch time.  With little to no break thanks to the World Championships, I'm just hoping they don't burn out in January/February.

| | |
| --- | --- |
| 8 | |

New Orleans Hornets

The Hornets have come back to earth since standing atop the NBA rankings two weeks ago.  A loss to the Clippers is never good for morale, but the hope is that Chris Paul & Co. can get back on track soon.  It would be heartbreaking for that 8-0 start to not lead to a first-round home court advantage.

| | |
| --- | --- |
| 9 | |

Denver Nuggets

Their current four game winning streak has turned around the attitude in the Mile High City.  This Nuggets team has gotten a huge boost from the home crowd, and seems to score at will on those soft Pepsi Center rims.

| | |
| --- | --- |
| 10 | |

Atlanta Hawks

The Hawks may currently be in third place in the Eastern Conference, but they are realistically right in the middle of a five-team jumble below Boston and Orlando.  They get hot and cold easily, and right now they happen to be hot.  Hard to predict how this team will finish, but so far their play is "good enough" at best.

| | |
| --- | --- |
| 11 | |

Chicago Bulls

Carlos Boozer should be returning soon, and with his health should come a predictable hot streak for Chicago.  There might (and likely will) be a rocky period to get him adjusted into the rotation, but the frontcourt of Boozer and Noah will be dominating Eastern Conference paints soon enough.

| | |
| --- | --- |
| 12 | |

Indiana Pacers

The Pacers not only look impressive, but they look impressive against the league's best teams.  Hibbert's improvement since entering the league has been a huge piece of Indiana's success.  Along with the hot-shooting that characterizes this squad, the Pacers play with fearless tenacity regardless of opponent.

| | |
| --- | --- |
| 13 | |

New York Knicks

The Knicks are cruising right now, but Amar'e Stoudamire and crew are not ready to celebrate just yet.  The Knicks need to put together about 30+ more wins in order to claim a "turnaround" from the disappointments of recent years.  Still, they are 1/3 of the way to eclipsing last year's win total less than 1/4 of the way into the season.  That makes me 1/2 certain they will finish in the Eastern Conferences top six.

| | |
| --- | --- |
| 14 | |

Miami Heat

The Heat will have a chance to prove their dominance on the biggest stage possible with LeBron's return to Cleveland.  If there is any must-win game on the schedule for this struggling team – that is it.  James will need help from his teammates in order to defeat the team-first focused Cavs.  Cleveland has been waiting for this game all season, so you know they will be ready.

| | |
| --- | --- |
| 15 | |

Memphis Grizzlies

The Grizzlies defeat of the Lakers does not make them one of the best teams in the Western Conference, but it did show Lionel Hollins what his team is capable of accomplishing.

| | |
| --- | --- |
| 16 | |

Phoenix Suns

The Suns are among the league's worst in scoring defense, and they are not scoring enough to warrant the high numbers.  With the improved play out of Memphis and Golden State, the Suns are in jeopardy of losing the playoff spot they have held for 19 of the last 22 seasons.

| | |
| --- | --- |
| 17 | |

Portland Trailblazers

The fact that Portland fans are excited for the return of Joel Przybilla should be a perfect sign that things are not going as well as they should in Portland.

| | |
| --- | --- |
| 18 | |

Cleveland Cavaliers

The Cavaliers' will have the entire world's eyes on the Q Thursday night.  They had a fantastic warm-up outing against the Celtics on Tuesday.  I can only imagine what the atmosphere will be like for LeBron's return.  Or as the Cleveland papers call him: "The Player Who Left"

| | |
| --- | --- |
| 19 | |

Golden State Warriors

David Lee's return to the lineup should lead to a boost in Golden State's win total, but I was not particularly impressed with the way they handled the adversity in his absence.  The Warriors are still coming together though, and I am a huge fan of their core.  It's just a matter of making all the other pieces fit.

| | |
| --- | --- |
| 20 | |

Milwaukee Bucks

After a hot start, the Bucks have sputtered a little in the last two weeks.  Much of that can be attributed to the absence of Andrew Bogut (back) who will likely not return until Saturday against the Magic.  The Bucks have found ways to win without him before, they just need to figure out how to do it again.

| | |
| --- | --- |
| 21 | |

Charlotte Bobcats

The Bobcats had a chance to make a statement with their back-to-back games against the former point guard Raymond Felton and the Knicks.  Unfortunately, losing both games by a combined eight points only acted a perfect representation for the letdown that has been the 2010-2011 season so far.  In order to restore faith in the Bobcats fanbase, they need to start looking like a playoff team.  Right now it has been a lot of the old in Charlotte.

| | |
| --- | --- |
| 22 | |

Toronto Raptors

The Raptors have made leaps and bounds in the last two weeks, but it has only brought them back to a level of low mediocrity in the improved Eastern Conference.  They should benefit from their two-day break and come back fresh against Washington on Wednesday.

| | |
| --- | --- |
| 23 | |

New Jersey Nets

Point guard Devin Harris' injury against the Knicks did not look too bad, but it is not a good sign for a team that needs that All Star leadership so desperately.  Without him last season, well, we know how that went.

| | |
| --- | --- |
| 24 | |

Detroit Pistons

For reasons I do not understand, many of the reports out of Detroit continue to be about McGrady's opinions on things.  The Heat, how much longer he can play, etc.  If they turned their attention to the court they would see a team that – oh yeah, they stink.  Proceed with more entertaining news.

| | |
| --- | --- |
| 25 | |

Houston Rockets

The Rockets need to find ways to score more points.  Since losing Aaron Brooks, the Rockets are 0-7 when they score less than 100 points.  Morey made blockbuster moves before the deadline last season, it would not surprise me to see him moving pieces again in the coming months.

| | |
| --- | --- |
| 26 | |

Philadelphia 76ers

The wins don't come often, but they look good when they do.  With a youthful backcourt, I guess that could mean hope for the future.  But they are still one dominant big man away from a team that could compete for the playoffs.  I don't think "Elton Brand" fits the bill for an 82 game season.

| | |
| --- | --- |
| 27 | |

Washington Wizards

Injury concerns for the 1st overall pick sound about right for the Wizards luck in the last couple seasons.  John Wall is beginning to feel the effects of the NBA schedule, and suddenly the Wiz are looking awfully thin heading into December.

| | |
| --- | --- |
| 28 | |

Minnesota Timberwolves

Kevin Love continues to play phenomenal basketball along with the Timberwolves frontcourt, but it has not been enough to translate into wins.  Until they develop consistent guard play they can expect the losses to continue to pile up in Minnesota.

| | |
| --- | --- |
| 29 | |

Sacramento Kings

I've tried sticking up for this team.  They have lots of promising young talent, but absolutely no commitment on the defensive end and no real offensive gameplan leaves the Kings wallowing in the Power Rankings cellar another week.

| | |
| --- | --- |
| 30 | |

Los Angeles Clippers

Please, please, please.  Free Blake Griffin.  Somehow, some way, it must be done.
Chip Patterson writes for CBSSports.com's College Football Blog and contributes at TheHoopDoctors.com.