December 1, 2010 – THD Rumor Patrol
Shaquille O'Neal says he can't wait to watch the Miami Heat game against the Cleveland Cavaliers this Thursday. Why? Because it's in Cleveland of course. That means it will mark the first time Lebron James has returned to Cleveland to play basketball after making his decision to leave his home state to play for the Miami Heat. A move that has had economic impacts on his home state and has outraged fans of the Cavaliers for weeks now. But the real question is….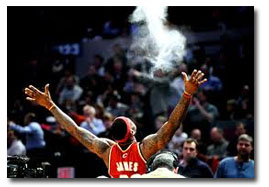 "I'm a silly fan," O'Neal said. "I'm anxious to see if he's going to do that powder thing."
James' homecoming on Thursday, his first game in Cleveland since deciding to join the Miami Heat this summer, may be the most anticipated matchup on the NBA schedule this season. Cavaliers fans are expected to mercilessly boo James, whose departure impacted the city's economy and psyche.
During his seven seasons in Cleveland, James developed a routine — before home and away games — of filling his hands with a white powdered rosin and tossing it above his head just before tip-off, creating a dust cloud that has become as much his signature as any powerful dunk.
On Tuesday, James seemed unsure if he would do it in front of fans who may no longer appreciate the snow-like spectacle.
"The powder? I probably will," James said after practice in Miami on Tuesday. "That's just a ritual for myself, a routine that I've always done, I've done on the road. I don't know. We'll see. I may change. I don't know."
O'Neal, who has felt the wrath of fans after leaving Orlando and Los Angeles, can't wait to find out.
"We have bets that he doesn't do it," said O'Neal, in town with the Boston Celtics to play the Cavaliers.
Dwyane Wade believes his Miami teammate will stick with his pregame powder ceremony.
"I wouldn't expect him to do anything different," Wade said. "He's done it for every game he's played. So why change it just for one game? If he doesn't throw it up, I'll throw it up for him. That's what he does. You cannot stop doing what you do. Moreso than anything, that's his ritual. That's what gets him ready for the game.
"No one's going to know until tip-off. And we'll be excited to see."
Read more details via NBA.com