December 1, 2010 – Allen Moll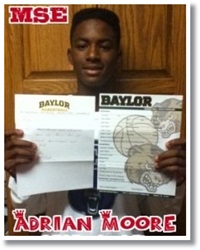 For those of you who haven't yet heard of Adrian Moore, a multi-talented middle-schooler from Arkansas, here's your chance to take note before he fulfills his destiny as being an elite level NCAA player and NBA superstar.
At only 11 years old, Adrian has already grown to 6'3 and has been tearing up the 12 and under AAU scene this past season. As you will soon see by this video, he regularly dominates players his own age as he is poised to definitely play up on the JV or Varsity level immediately upon entering  high school.
He drew national attention for dunking a ball as a 6th grader at the AAU Nationals a few years ago and now already has a nickname as the "Class of 2016 Phenom." He has apparently worked hard on his game over the past year to develop some sweet ball-handling skills and is already able to finish with both hands. Adrian unbelievably is already being compared to that of Atlanta Hawks athletic forward Josh Smith.
A number of Division I schools have already taken notice as Coach Drew and staff at Baylor have recently sent the phenom a scholarship letter before the recruit has officially begun his 8th grade hoop season. Adrian also is such an unbelievably gifted athlete that he also starred as a pitcher for a national champion baseball team in his native Conroy, Arkansas. The kicker is that Adrian may not even be the best player on his team as he pairs with the #1 rated Khalea Turner in the 2016 Class on the LA Prime Select AAU squad.
Check out Adrian Moore's 2010 Highlights:
Source: Middle School Elite
Allen Moll has been a lifelong NBA and NCAA College Basketball fan who watches and studies games religiously, and coaches youth basketball in his native Lehigh Valley region of Pennsylvania.  Allen also provides content to Bleacherreport.com, Upperdeckblog.com, in addition to being a tenured NBA and NCAA columnist for TheHoopDoctors.com.