November 11, 2010 – Allen Moll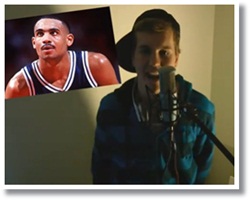 More than any other NCAA team, the Duke Blue Devils are hands down the most hated squad on the college hardwood. Maybe it's the evil empire effect, similar to that of baseball's New York Yankees, Coach K's sometimes odd facial expressions, or maybe it's just jealousy since the Blue Devils are continually among the nation's elite teams year-in and year-out.
There's some bad news on the horizon for all of those Duke haters out there since not only did the Kyle Singler led squad win yet another NCAA Championship last April but with Singler returning for his senior season, the Blue Devils are the odds on early favorites to repeat as National Champions. And it doesn't get any better going forward as Coach K has successfully recruited quite possibly the best backcourt tandem in the nation next season with the pairing of #1 overall recruit Austin Rivers and the #10 rated PG Quinn Cook for the '11-'12 campaign.
To make matters worse, the Duke faithful, known everywhere as the Cameron Crazies, have to put up with other Duke fans that don't even attend the school, putting out cheesy, dare I say metrosexual type videos that unfortunately remind us of 98 Degrees and the Backstreet Boys of a few years ago.
Only Eminem, the Beastie Boys, and possibly MC Search of 3rd Bass fame during the 80's were able to successfully pull off careers as white rappers, so why would this pasty faced Justin Bieber look-a-like think he could pull it off using the old auto-tuner? I dare you to get through 30 seconds of it:
Allen Moll has been a lifelong NBA and NCAA College Basketball fan who watches and studies games religiously, and coaches youth basketball in his native Lehigh Valley region of Pennsylvania.  Allen also provides content to Bleacherreport.com, Upperdeckblog.com, in addition to being a tenured NBA and NCAA columnist for TheHoopDoctors.com.