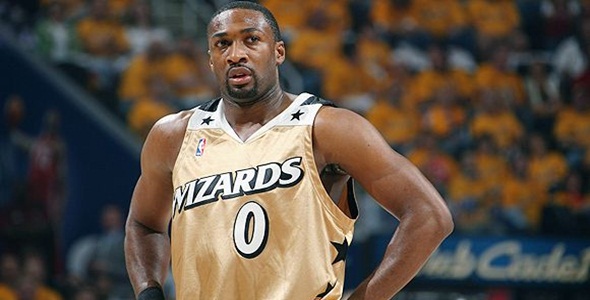 November 16, 2010 – Allen Moll
Something stinks about this story…literally. Back in January, an article in Sports Illustrated uncovered that Gilbert Arenas took a crap in one of power forward Andre Blatche's shoes.  Seriously. While everyone thought it was just Gilbert being Gilbert once again, everything happens for a reason, and this was no exception.
Arenas is known around the league for pulling  pranks on rookies and veterans alike as the fun-loving "Agent 0" character we have all grown to love. It has been reported that Gil has been just brutal on his teammates by once swiping 3rd year player Nick Young's car keys on a road trip and mailed them to someone in D.C. with instructions to steal his car and has also been known to steal teammates' cell phones and send porn to everyone in their address books. As a rookie, Gil was once ordered to get donuts with sprinkles for the team but instead bought plain ones and dusted them with baby powder.
Concerning the incident with Blatche, the two do have some history as Arenas once filled up Andre's bathtub with coffee on a road trip. Gilbert also has the reputation for cutting up players clothes to shreds so they must wear their sweat drenched uniforms back home.
Until now, no one has ever asked Gilbert why he decided to defecate into his teammates shoe, the incident affectionately now known as "Poop-Gate." A reporter for the Washington based website Truth About It.net finally got the real story of just how and why human excrement was involved.
Apparently Gilbert's reputation as a prankster preceded him as someone(please, I wonder who it was?) cut up Andre Blatche's suit following a game, prompting Dre to assume it was Gilbert, then tossed all of Gil's clothes into the jacuzzi. In retaliation, Arenas then could think of nothing better than to take a giant crap in one of Blatche's shoes.
One funny part in the video is when Gilbert claims that "All of the fun is over, no more of that." I guess faking an injury to allow a teammate to start a game earlier this season doesn't qualify?
Let's let Gilbert tell the story of "Poop-Gate" in his own words:
Allen Moll has been a lifelong NBA and NCAA College Basketball fan who watches and studies games religiously, and coaches youth basketball in his native Lehigh Valley region of Pennsylvania.  Allen also provides content to Bleacherreport.com, Upperdeckblog.com, in addition to being a tenured NBA and NCAA columnist for TheHoopDoctors.com.