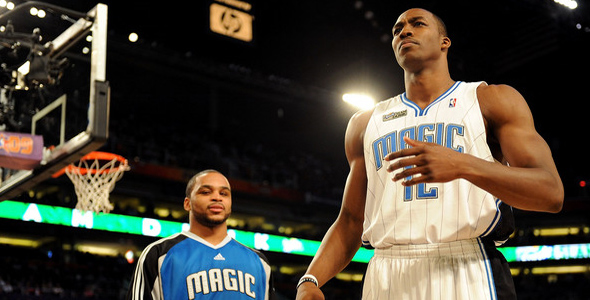 October 14, 2010 – Kevin Burke
In order for basketball teams to maximize their full potential, everyone must play their role. Two important cogs, of course, are the Point Guard and the Center. Watching the Point and a Center work a pick and roll is a thing of beauty. There have been some very good PG/C tandems in NBA history, and it is truly a joy to witness when they click.
Cousy and Russell, Magic and Kareem, Isiah and Laimbeer, Shaq and Penny. Those are just a few of the great combos in NBA history. The NBA used to be a Center-dominated league, but lately there has proven to be a paucity of legit big men in the league, while great Point Guards are thriving. While there have been great overall tandems in NBA history, here are my Top 5 Point Guard / Center combinations in the NBA today.
#5: Chauncey Billups and Nene – Denver Nuggets. Experience together: 2 years
I still think that Chauncey Billups is a top PG in the NBA today because he is an excellent game manager. A former Finals MVP, he showed his true worth when he came to his hometown of Denver when he was dealt for Allen Iverson a few years ago. The Nuggets instantly went from a so-so team to a legit force in the West. That was largely due to Chauncey. He's 34 now, but he is still just as productive as he's ever been because his game was never really predicated on speed and athleticism. He can score and also has great court vision.
Nene fits in perfectly with what the Nuggets are trying to do and he and Chauncey work well together. He's tough down low and is certainly serviceable. He won't make an All-Star team any time soon, but for the Nuggets, that's OK.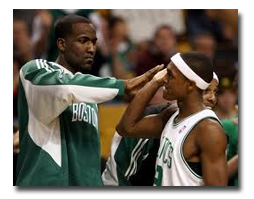 #4: Rajon Rondo and Kendrick Perkins – Boston Celtics. Experience together: 4 years
This combo has something that the others on the list do not: a championship, and they each were very valuable pieces in that run. You could argue that if Perkins didn't go down in Game 6 of the Finals last year against the Lakers, causing him to miss Game 7 (and the first couple of months of this coming season), that the Celtics would've beat the Lakers. We'll never know now.
Personally, Rondo really surprised me last year. I wasn't that in love with what he brought to the table until last season. Now, I'm a believer and realize just how special a player he is. Many feel as if he's the best player on the team. The Celtics believe in him too as they gave him a 5-year, $55M deal last year.
Perkins is solid. Not a top Center in the league, but solid. Along with Rondo, they qualify for this list. Perkins is mean down low and adds a defensive presence. Unfortunately for Perkins, the Celtics got not only one guy (Jermaine O'Neal) to replace him, but they got two (Shaquille O'Neal). Hopefully it's still his job when he gets back.
#3: Brandon Jennings and Andrew Bogut – Milwaukee Bucks. Experience together: 1 year
These guys lead the wave of the next great PG/C combos of the future. Traditionally speaking, the Bucks usually aren't that exciting to watch. Ray Allen gave the organization a shot in the arm about a decade ago, but since he left, not much excitement has gone on. Until now. With these two guys the Bucks have somehow become a perennial playoff team that is only going to get better.
Brandon Jennings proved people wrong last year who thought that his trailblazing move to play overseas rather than going to college was a bad idea. With rookie averages of roughly 16ppg and 6apg, including a 55-point outburst, Jennings has already made his imprint on the league. He even thinks that he had the best rookie campaign, despite not winning Rookie of the Year honors.
Had it not been for Bogut's unfortunate and extremely ugly arm injury, I believe the Bucks would've gotten by the Hawks in last year's opening round playoff series. The former #1 overall pick has come on strong lately and put up an impressive 16 and 10 last season. These two are only going to get better.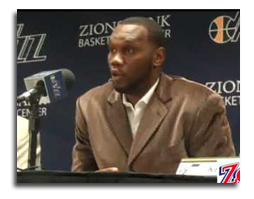 #2 Deron Williams and Al Jefferson – Utah Jazz. Experience together: 0 years
I didn't want to put any combo on this list that hasn't played together yet, but I couldn't deny this duo. Deron is one of the best PGs in the game who can score at will and has exceptional court vision. It seems like Al Jefferson has been in the league forever already, but he is only 25 years old. Having played Power Forward in his career, his is now listed as a Center and I think he should get the start ahead of any other Center on the Jazz roster. Knowing each of their games, I don't think it will take any time at all for Williams and Jefferson to gel and make and have an immediate impact.
#1: Jameer Nelson and Dwight Howard – Orlando Magic. Experience together: 6 years
As far as PG/C combos go, this is the class of the NBA. Jameer is an underrated Point and Dwight is hands down the best Center in the game today. These two click on all cylinders when they are on the floor together. They have incredible chemistry. The other four combinations on this list don't even come close to the chemistry that Nelson and Howard have. They connect on alley-oops like nobody's business. It's intuition by way of playing together for so many years.
Although the Magic didn't do a whole lot this Summer, they are still a top 3 team in the Eastern Conference and if you ask Dwight Howard, he'll tell you that the Magic are in fact the best team in the East.
Honrable mention
Devin Harris and Brook Lopez – New Jersey Nets
Derrick Rose and Joakim Noah – Chicago Bulls
If you're looking for your everyday, predictable basketball talk, then go somewhere else, because Kevin Burke of The Kevin Burke Project brings provocative, thought provoking content about basketball as only he can. Kevin also hosts The Hoop Doctors weekly podcast show, which you can subscribe to for free on iTunes. Follow Kevin on Twitter and Facebook